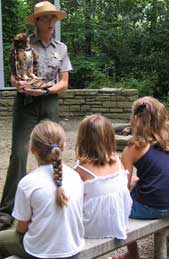 NPS photo
Becoming a Blue Ridge Parkway Junior Ranger is exciting and rewarding! Pick up your Junior Ranger folder and instructions at any park visitor center.
Rangers are typically available from Memorial Day through October. Then travel the Parkway to get activity sheets that are connected to the stories and the places along your journey.
You may also get a copy of the folder by clicking below. Enjoy your trip and thanks for your interest in becoming a Blue Ridge Parkway Junior Ranger!
Worksheets for individual places along the Parkway.
Appalachian Trail Junior Ranger Program.
National Park Service Web Rangers.
Teen Activity Guide for the Appalachian Trail along the Blue Ridge Parkway.
Check out kidsinparks.com for more activities related to the Parkway.