Phone System Down at Julian Price Campground

The phone system at JP Campground, MP 296.9, is currently out of order. Please refer to recreation.gov to make or change any reservations. For additional questions please refer to the camping opportunities section of our website. More »
ONE LANE TRAFFIC CONTROL, MP 241 - 242.4

REMINDER: Roadwork continues in a one-mile section of Parkway, commonly known as Ice Rock, from MP242.4 at Alligator Back Parking Area to MP241. The project involves twenty-four-hour, one-lane traffic control until November 1, 2014.
History & Culture
NPS photo
The Blue Ridge Parkway is many things. It is the longest road planned as a single unit in the United States. It is an elongated park, protecting significant mountain landscapes far beyond the shoulders of the road itself. It is a series of parks providing the visitor access to high mountain passes, a continuous series of panoramic views, the boundaries of its limited right-of-way rarely apparent and miles of the adjacent countryside seemingly a part of the protected scene. It is a "museum of the managed American countryside," preserving the roughhewn log cabin of the mountain pioneer, the summer home of a textile magnate, and traces of early industries such as logging, railways, and an old canal. It is the product of a series of major public works projects which provided a boost to the travel and tourism industry and helped the Appalachian region climb out the depths of the Great Depression. Stretching almost 500 miles along the crest of the Blue Ridge mountains through North Carolina and Virginia, it encompasses some of the oldest settlements of both pre-historic and early European settlement. The Blue Ridge Parkway is all these things and more.
"Driving Through Time - the Digital Blue Ridge Parkway" is available for those who would like to explore the history of this spectacular scenic drive on line. Educational materials for classroom use are part of the site. Click here and enjoy!


Did You Know?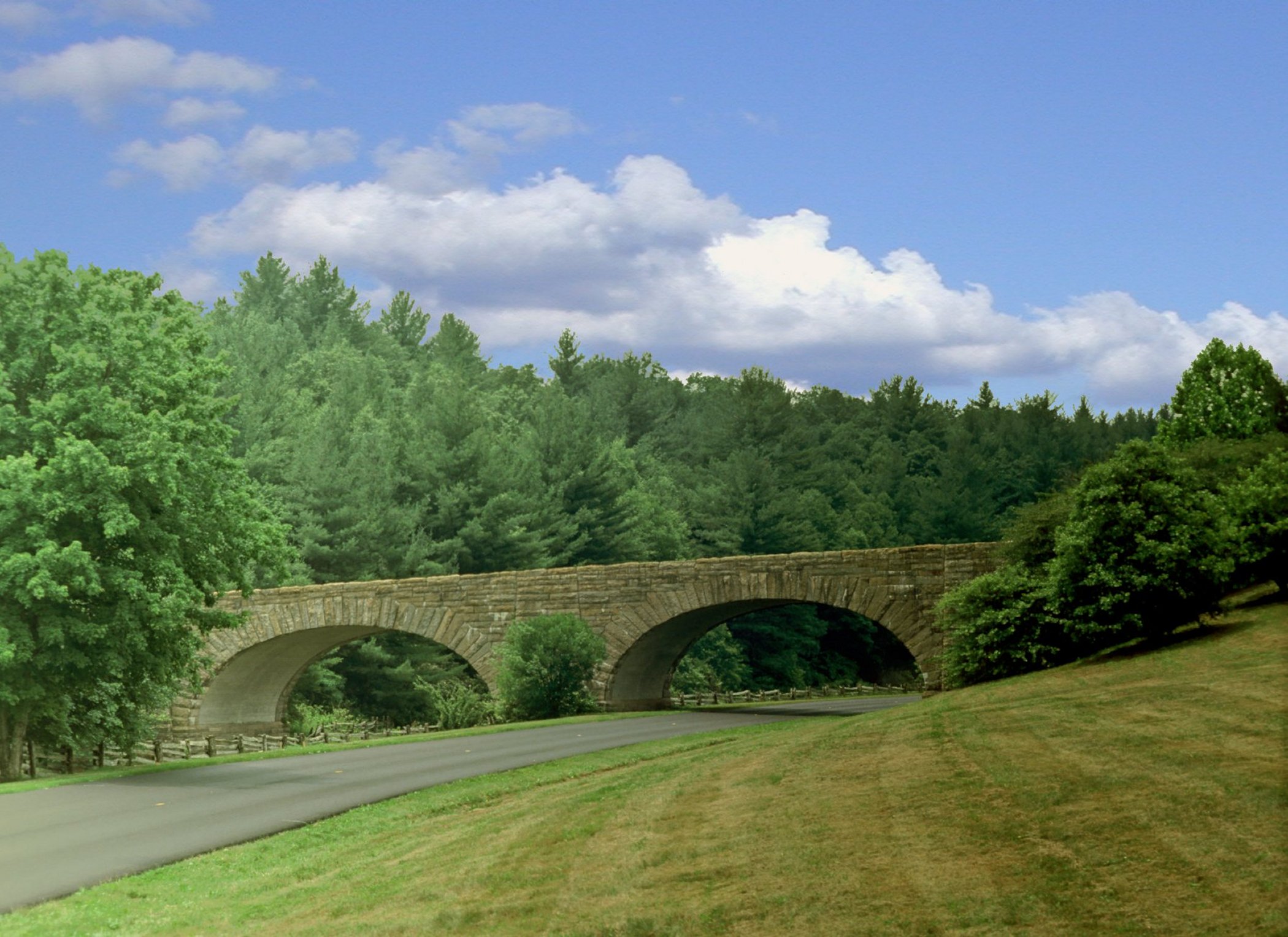 There are 176 bridges on the parkway, which makes up 10% of all National Park Service bridges.