For Kids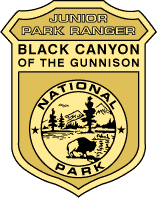 Be a Junior Park Ranger!

Help take care of your national treasures!
Anyone between the ages of 5 and 12 can become a Junior Park Ranger at Black Canyon of the Gunnison National Park. There are challenging activities in our Junior Ranger Book that you can do when you visit the park. Learn more about the stuff that makes up the scenery.
Stop by the South Rim Visitor Center for more information and to pick up your free Junior Ranger Book.


---
Advanced Junior Ranger Camp 2013
Are you going to be entering 3rd or 4th grade next fall? Have fun this summer spending time outdoors doing exciting activities while getting to know your national parks! In the summer of 2013, a week-long summer day program will be offered at Black Canyon based out of the South Rim Visitor Center. All programs will be taught by rangers and teachers with extensive experience leading children in the outdoors. The schedule each day will run from 10 a.m. to 3 p.m., with a family picnic and awards ceremony held on Friday. Participation is limited to 20 children for each camp, and registration is on a first-come, first-served basis.
Registration Form » (pdf)
---
Let's Move Outside
Let's Move Outside, administered by the Department of Interior, was created to get kids and families to take advantage of America's great outdoors-which abound in every city, town and community. And together, these agencies oversee more than one-fifth of the nation's land - including millions of acres of National forests, parks and trails.
Curecanti and Black Canyon are official Let's Move Outside parks. This means that special programs and incentives are offered encouraging children and their families to get outside and get active in these parks. Regular exercise in nature is proven to improve children's physical and mental health. Outdoor activity helps kids maintain a healthy weight, boosts their immunity and bone health and lowers stress. For more information, visit LetsMove.gov.


Did You Know?

The Painted Wall is the highest cliff in Colorado. From river to rim it stands 2250 feet (685 meters), and is 1000 feet (304 meters) taller than the Empire State Building.