Twin Arches Loop Trail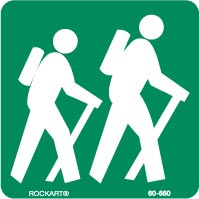 NPS
| | |
| --- | --- |
| Distance: | 1.4 miles, Twin Arches Trail |
| | 4.6 miles, Twin Arches Loop Trail |
| Difficulty: | Moderate |
| Cautions: | Steep Wooden Stairs |
| | Cliff Edges |
| Connections: | Charit Creek Trail |
| | Slave Falls Trail |
The Twin Arches Trail and Loop Trail have some geological features in Big South Fork, and the Twin Arches are truly the most impressive rock arches in the eastern United States.
The North Arch has a clearance of 51 feet, a span of 93 feet and its deck is 62 feet high; South Arch has a clearance of 70 feet, a span of 135 feet and its deck is 103 feet high.
The Twin Arches Trail is a .7 mile walk which will bring you to the Twin Arches and the Twin Arches Loop Trail. By following the Twin Arches Loop clockwise you will descend about 400 feet from the arches the Charit Creek Lodge.
At the Lodge you will find restrooms, accommodations and maybe even some refreshments. From there the trail follow along Station Camp Creek to an old home site know as Jake's Place.
Past Jake's Place the trail once again climbs almost to the top of the plateau and follows the base of a cliff line back to the Twin Arches. Along this section are several huge rock shelters once used by Native Americans, early settlers and even niter miners.
Upon reaching the Twin Arches you may return to the parking lot by climbing the stairs between the arches and following the Twin Arches Trail back.
Down load a map (PDF 2,550 kb) of the Twin Arches Trails and Profiles.
Did You Know?

In terms of total sites, Big South Fork National River and Recreation Area is the most important archaeological location in the Southeast Region of the National Park Service. The 1,335 documented archaeological sites at Big South Fork represent only 20% of the estimated total for the park. More...