Annual Spring Planting Day Festival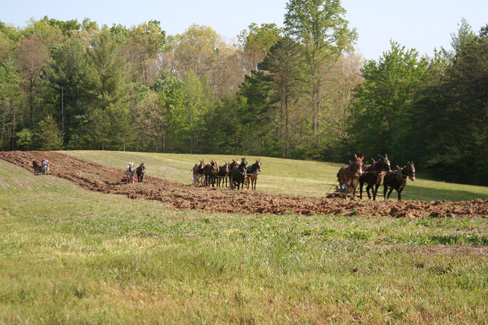 Save the date for the 15th annual Spring Planting Day Festival, April 30, 2016.
Spring, a time for new beginnings and growth. For many mountain families it was also a time to begin their planting of crops, vegetable gardens and livestock production. It was this production that sustained the family through the rest of the year.
The early families who settled the Big South Fork area depended on their ability to successfully raise animals, crops, and gardens to feed themselves. Most of the farming that occurred here was truly subsistence farming. The family often consumed the entire production of the garden. There was continued use of wild plant and animal foods, but the "kitchen garden" was vital to a sustainable food supply. This tradition continues with many families even today. It is not uncommon for local residents to have large gardens that provide a substantial amount of food.
Along with planning for their gardens and crops, families had a number of annual spring "chores" that were performed -- spring cleaning and airing out of the house and bed linens, repairing paling fences, livestock care and animal husbandry, and mending and making clothing for the spring and summer seasons. Various crafts and forgotten arts of today were skills of yesterday -- skills needed for survival in the area we now call the Big South Fork, Cumberland Mountains, or Appalachia.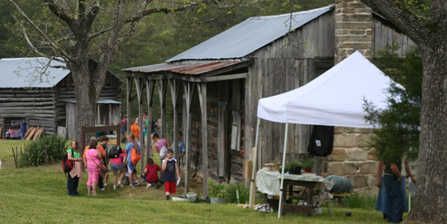 National Park Service
In celebration of these skills and traditions of spring, Big South Fork National River and Recreation Area annually hosts Spring Planting Day the last Saturday of April. During the festival crafter's demonstrate forgotten arts such as blacksmithing, basket making, hand spinning, weaving, woodcarving, chair caning, soap making, garden herb lore and use, and paling fence making. In addition there are displays of women's life, antique farm tools, farm animals and old-time toys which will delight young and old alike. Toe-tapping tunes of mountain dulcimer music are performed by the Knoxville Area Dulcimer Club throughout the day. Of special interest is the plowing and planting with mules and horses which takes place at the Lora Blevins field.
Come and join us in our celebration of spring and traditional mountain ways. For more information, contact the Bandy Creek Visitor Center at (423) 286-7275.