Permits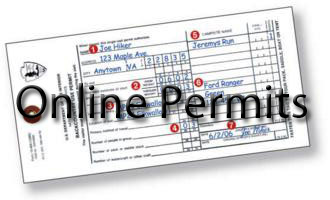 BACKCOUNTRY CAMPING PERMITS

Backcountry permits are required for all visitors who will camp in the backcountry for one or more nights.
These permits are good for the length of stay but not longer than 14 days.
Permit fees are based on group size. Groups with more than 25 persons must obtain a Special Use Permit.
Backcountry Camping Permits may be obtained at one of our visitor centers or online.
| | |
| --- | --- |
| 1 to 6 person(s) | $5.00* |
| 7 to 12 persons | $10.00* |
| 13 to 18 persons | $15.00* |
| 19 to 24 persons | $20.00* |
*Holders of the Interagency Senior/Access Passes pay only half the fee.
HOG HUNTING PERMITS
Hog hunting
permits are required to hunt wild boar in the Big South Fork NRRA from mid-September through the end of February each year. These permits are available at the Bandy Creek and Kentucky visitor centers as well as
online
. Permits are
$5.00 ($2.50 for holders of the Interagency Senior/Access Pass)
and must be purchased with a valid hunting license.
SPECIAL USE PERMITS
Special Use Permits
are required by the National Park Service to assure that park units act to conserve park resources "unimpaired" for the enjoyment of future generations. Therefore, any activities that would cause derogation of or detract from the values and purposes for which a park has been established cannot be allowed.