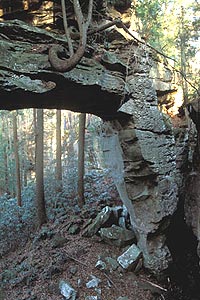 National Park Service
Split Bow Arch
Split Bow Arch is one of the most accessible arches in Big South Fork. A quick view from an overlook is only one hundred feet from a small parking area. However, to go to the bottom of the arch a short hike of .64 miles can be taken from the Bear Creek Overlook trailhead. The hike is easy and the 1.28 mile round trip only takes a few minutes.
Bear Creek Overlook
Bear Creek overlook is arguably one of the prettiest views of the Big South Fork River anywhere. An easy walk of one fourth of a mile takes you to one of the longest views along the river gorge. The area visible to the south from this overlook is one of the most remote sections of the Big South Fork River.
Catawba Overlook
This overlook is named for the abundance of Catawba rhododendron found here. The1.6 mile (one way) hike begins at the Blue Heron Mining Camp on the west end of the tipple bridge. It follows the old mining tram way once used to haul coal from the mines to the coal tipple for sorting and loading. The trail has one moderately steep uphill section before reaching the overlook. This trail is part of the long distance Kentucky trail.