Elliott Key Harbor and Campground Closed

Winds, surge and tides associated with Hurricane Sandy caused considerable damage to docks & boardwalk at Elliott Key. The harbor and campground are closed until further notice. University Dock remains open for day use only. More »
Canoeing and Kayaking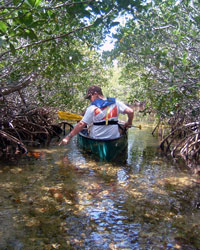 Photo by Gary Bremen
Canoeing and kayaking are great ways to explore the park's mangrove-fringed shorelines and shallow bay waters. More experienced kayakers may enjoy crossing Biscayne Bay's 7-mile expanse to camp at Elliott Key or Boca Chita Key. Using the islands as a base camp will allow exploration of the lagoons, creeks and channels south of Caesar Creek. Many of these places are far too shallow for any type of motorized vessel, so canoeists and kayakers are likely to have these places all to themselves.
Shallow Jones Lagoon is a great place to see sharks, rays, upside-down jellies, huge schools of fish and large wading birds. Hurricane Creek, named for the fact that oldtimers would tie their boats here during big storms, offers excellent snorkeling beneath mangrove roots to observe sea squirts, crabs, anemones and other marine life. Rocky ledges and giant sponges provide hiding places for spiny lobster, though this area is within the Biscayne Bay-Card Sound Lobster Sanctuary, and harvest is prohibited all year.
Visitors with canoes or kayaks of their own can launch them for free at the Dante Fascell Visitor Center. Leaving a vehicle in the parking lot overnight is permitted when camping on one of the park's islands, but stop into the Visitor Center to fill out a free parking permit. The park's concessioner can sometimes provide transport to Elliott Key for campers and their canoes and kayaks, allowing exploration of the islands and creeks without the potentially daunting crossing of Biscayne Bay.
The park's concessioner rents canoes and kayaks - call 305-230-1100 or visit their website at www.BiscayneUnderwater.com for details.
Guided canoe and kayak trips are typically offered during the winter months (January through April), but may also be available on a more limited basis at other times of the year. Check our Guided Canoe and Kayak Trips page, visit our Schedule of Events page or call 305-230-7275 for updates.
Did You Know?

Elliott Key and other islands in Biscayne National Park were settled under the Homestead Act of 1862. This law gave free land to settlers willing to live on and farm a piece of land for five years. The main crops planted here were pineapples and key limes.