Boat Tours, Paddle-craft Rentals and Select Conveniences Temporarily Unavailable

Glass-bottom, snorkel, diving and island boat tours, and rentals for canoes and other paddle-craft, are temporarily unavailable. The park is working to resolve the issue as soon as possible and regrets the inconvenience. Limited snack items are available.
Boating Safety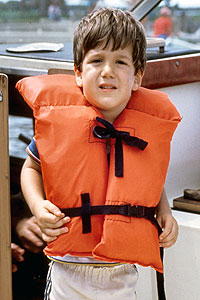 NPS Photo
Each year many people are injured or die in boating accidents, many of which could have been avoided with a little preparation.
While boating in the park or anywhere, keep the following basics in mind:
Never drink and drive your boat
Never sit on bow or gunwales while underway
Always maintain proper lookout
Always operate at a safe speed
When you see a vessel flying a divers down flag or an alpha flag, maintain at least a 300-foot distance. Vessels approaching divers-down flags closer than 300 feet must slow their vessels to idle speed.
While towing water skiers or rafts, the person being towed must be wearing a lifejacket and the vessel must have a competent observer in addition to the boat operator
Remember to observe boating's Rules of the Road. Learn more at the US Coast Guard's Boating Safety website or at the State of Florida's Boating Safety page.
Attend a Safe Boating Course offered by the local U.S. Coast Guard Auxiliary or U.S. Power Squadron chapter.
Safety Equipment
Safety equipment can save lives and allow you to relax and enjoy your time on the water. Contact your nearest U.S. Coast Guard Station about receiving a free brochure or visit the USCG Boating Safety website. Also, local chapters of U.S. Coast Guard Auxiliary perform courtesy boat inspections at many marinas.
Required Equipment
Lifejackets (1 per person in the correct size) All children under 6 years old on vessels less than 26 feet must be wearing an appropriately-sized lifejacket while underway.
Throwable type IV flotation device (vessels over 16 feet).
Fire extinguisher
Visual distress kit.
Sound making device (horn or whistle).
Dive flag (if snorkeling or diving). The size of divers-down flags displayed on vessels should be 20 inches by 24 inches, and a stiffener is required to keep the flag unfurled. Dive flags carried on floats may be 12 inches by 12 inches. Also, divers-down flags on vessels must be displayed so that the flag's visibility is not obstructed.
Recommended Equipment
Anchor and line
Radio (with US Coast Guard hailing and distress Channel 16)
Nautical Chart so you don't run aground
First aid kit
Did You Know?

If you added up all the different kinds of vertebrates (fish, amphibians, reptiles, birds and mammals) in Grand Canyon, Yellowstone or Yosemite, you still wouldn't have the number of fish found in Biscayne National Park. You'll have to look closely to see many of them, including this grass porgy.