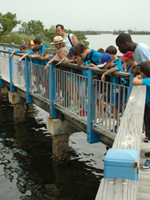 MDC
BISCAYNE EXPLORER: WILDLIFE INVENTORY AND NATURE STUDY
Biscayne Explorer: Wildlife Inventory and Nature Study is a standards-based, ranger-led program that brings science and scientific methods to life. This program offers students with the opportunity to perform the same tasks as National Park scientists, including water quality testing, monitoring coral growth and inventorying wildlife. Species identification and surveying are critical responsibilities that help to ensure proper management of natural resources.
Upon your arrival to the Dante Fascell Visitor Center, your class will be greeted by a National Park ranger who will provide your group with a brief orientation. The Ranger will then lead your class along six activity stations. (Large groups will need teachers and chaperones to lead, as well as the park ranger.) Students will test water samples, make a food web with real specimens and learn about the park's coral reefs. Using identification cards, students will also identify and inventory the wildlife that they see. The students will record all of their findings into a workbook which can be taken back to the classroom for further study, discussion, or counted towards a grade.
Curriculum Materials to help you prepare for your field trip or to help you reflect on your visit are now available online!

Grades: 4th-7th Grade
Ranger Led: Yes
Standards based: Yes
Group size: 15-60 Students
Chaperones: 1 per every 10 students
Program Dates: November-April

To register, please fill out the Biscayne Explorer Registration Form.
School's responsibility: Transportation to Dante Fascell Visitor Center and lunch.
Park's responsibility: Ranger and program supplies.
Program Length: 4 hours (including lunch).
For more information: Call (305)230-7275 x 08 or e-mail us