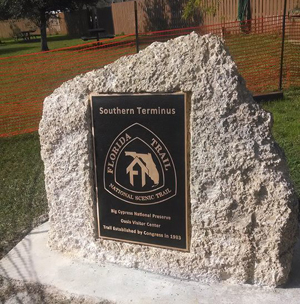 INTERSTATE 75 TO HIGHWAY 41
Approximately 28 miles one way
Trailheads are located on Highway 41 near Oasis Visitor Center and on Interstate 75 (Alligator Alley) at the rest area at Mile Marker 63.
The trail passes through a variety of habitat types including hardwood hammocks, pinelands, prairies and cypress. Some high ground is available for camping at 13-mile camp. DURING THE DRY SEASON, THERE IS NO WATER AVAILABLE ON THIS ENTIRE ROUTE. YOU MUST CARRY ALL WATER.
This walk is not for the casual hiker. It is not heavily marked and vegetation grows over it during the rainy season when there is little foot traffic.