Art Exhibits & Artist Demonstrations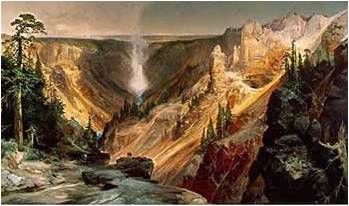 Thomas Moran, 1872
Artists have had a long-standing impact on the formation, expansion and direction of our national parks. Painting the landscapes of the American West, visual artists like Thomas Moran, George Catlin and Albert Bierstadt focused attention on natural wonders in the western landscape, then unfamiliar to the eastern populace.
These visual records of early artists helped to stimulate the establishment of many of our national parks.
Today, artists continue to document national park landscapes with contemporary approaches and techniques. Writers, sculptors, musicians, composers, and other performing artists also draw upon the multifaceted quality of parks for inspiration.
These artists translate the national preserve's purpose, as a place of pleasure and conservation, into images, which bring others enjoyment and a deeper understanding of the parks many Americans may never visit.
Please click here to learn more about the Artist-In-Residence program, or either of the following:
Did You Know?

Alligator hatching season is typically September through October in south Florida. A female can lay up to 50 eggs, about 45 of which will hatch, but only two or three will make it beyond the first two years of life.