Secondary Trail Closure

Effective 8/1/2014, following the 60-day recreational ORV closure, only the designated primary trails in the backcountry will be open to recreational ORV use and access. All secondary trails will remain closed on an interim basis for an additional 60-days More »
October ORV Advisory Committee Meeting Canceled

The National Park Service (NPS) at Big Cypress National Preserve has canceled the previously scheduled Off-road Vehicle (ORV) Advisory Committee (ORVAC) meeting that was scheduled for Tuesday, October 7. More »
Art Exhibits & Artist Demonstrations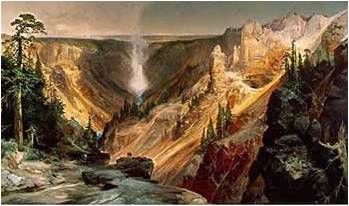 Thomas Moran, 1872
Artists have had a long-standing impact on the formation, expansion and direction of our national parks. Painting the landscapes of the American West, visual artists like Thomas Moran, George Catlin and Albert Bierstadt focused attention on natural wonders in the western landscape, then unfamiliar to the eastern populace.
These visual records of early artists helped to stimulate the establishment of many of our national parks.
Today, artists continue to document national park landscapes with contemporary approaches and techniques. Writers, sculptors, musicians, composers, and other performing artists also draw upon the multifaceted quality of parks for inspiration.
These artists translate the national preserve's purpose, as a place of pleasure and conservation, into images, which bring others enjoyment and a deeper understanding of the parks many Americans may never visit.
Please click here to learn more about the Artist-In-Residence program, or either of the following:
Did You Know?
Before Gerald Ford, the 38th President of the United States designated Big Cypress as the country's first national preserve, in 1974, he worked as a National Park Ranger at Yellowstone National Park, in 1936. He was the only US President to have worked for the National Park Service.