Extreme Water Shortage

Extreme water shortage throughout park. Visitors are limited to 5 gallons per day, and are encouraged to conserve further when possible. Please consider bringing your own water to the park.
Directions
"Half the pleasure of a visit to Big Bend National Park, as in certain other affairs, lies in the advance upon the object of our desire."—Edward Abbey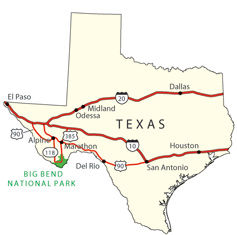 While the isolation of Big Bend National Park is a draw for many visitors, it also means your trip must be well prepared and carefully planned. Big Bend National Park is located in southwest Texas, a considerable distance from cities and transportation hubs. There is no public transportation to, or in Big Bend National Park.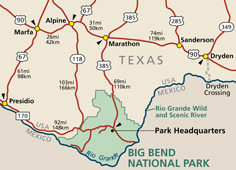 Several highways lead to Big Bend National Park: TX 118 from Alpine to Study Butte or FM 170 from Presidio to Study Butte (then 26 miles east to park headquarters) or US 90 or US 385 to Marathon (then 70 miles south to park headquarters).
Distances between towns and services are considerable. Be sure you have plenty of gas, oil, food, and water for your trip. The park has four camp stores, but supply and selection can be limited. There are also small stores in the communities outside the park. The last major shopping areas (grocery and hardware stores) are Alpine, Fort Stockton, and Del Rio.


Did You Know?

Border trading posts were located on the Texas side of the Rio Grande because it was easier to obtain supplies from the United States markets. These operators not only sold merchandise but purchased products from their customers who could, in turn, purchase store items as needed. More...