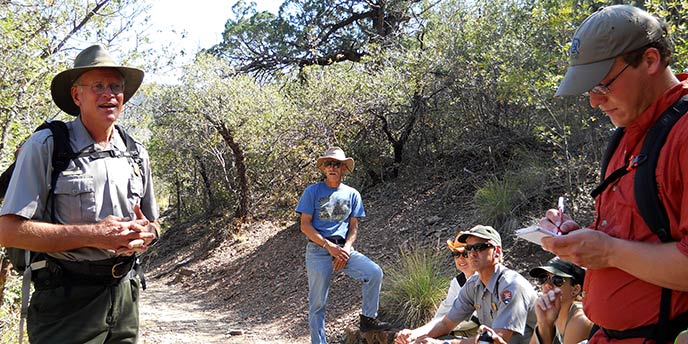 NPS Photo/Ann Wildermuth
August 20, 2015
National Park Service 99th Birthday
National Park Service Celebrates 99th Birthday! Big Bend National Park will offer free admission on August 25th.
June 15, 2015
Backcountry Use Limits
Big Bend National Park managers are reaching out to visitors who backpack overnight into the park's vast undeveloped back country in order to clarify applicable use limits.
May 26, 2015
Temporary Closures
The management of Big Bend National Park is initiating temporary closures of the following park areas: Cottonwood Campground car and group campsites; all but the first loop of the Rio Grande Village Campground; all Rio Grande Village group campsites; and the Old Maverick Road backcountry car camping sites.
May 20, 2015
Fee Increases
Big Bend National Park to Increase Entrance and Backcountry Camping Fees Beginning June 1st
February 23, 2015
2015 Boquillas Port of Entry Summer Hours
Boquillas Port of Entry Begins Summer Hours of Operation
February 03, 2015
2016 Budget Increase
Budget Increase Proposed for National Park Service Centennial Year