Tingles Island Campsite Closed until further notice

The Tingles Island Campsite is closed to all access until further notice due to nesting bird activity.
Ranger Guided Programs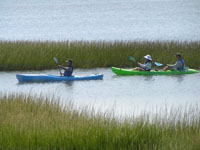 NPS Photo
A variety of ranger guided programs are available to encourage visitors of all ages to enjoy and learn more about the barrier island environment.
Program Schedules
Maryland District Program Schedule
April 18-20, 2014 (pdf file, 228kb)
Maryland District
Assateague Island Visitor Center
410-641-1441 (press 1)
Virginia District Program Schedule
April 19-20, 2014 (pdf file, 136kb)

Virginia District
Toms Cove Visitor Center
410-641-1441 (press 2)
Did You Know?

...that instead of needing to keep her eggs warm, the beach-nesting piping plover will stand over her eggs on hot days to shade them and keep them cool.