Oversand Vehicle Zone (OSV) Closures

Virginia District OSV zone is closed.
Ranger Guided Programs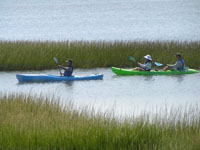 NPS Photo
A variety of ranger guided programs are available to encourage visitors of all ages to enjoy and learn more about the barrier island environment.
Did You Know?

When you see beach foam think of egg whites! Beach foam is created when the tumultuous action of the surf forces air into the ocean water. It is similar to whipping egg whites into froth but instead of egg whites the ocean contains organic compounds that reduce the surface tension of the bubbles.