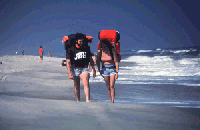 NPS photo
Getting There
When hiking on the beach or camping at the oceanside sites, expect to encounter up to 145 vehicles in the Over Sand Vehicle (OSV) zone, especially during the summer months. Transportation of campers and/or equipment by vehicle is prohibited.
Please check with radio, television, and the internet for up-to-date information on local weather patterns. Paddlers should obtain information from the National Weather Service regarding small craft advisories for "Coastal Waters from Fenwick Island to Chincoteague Island" at http://www.erh.noaa.gov/akq/index.php or by calling (410) 641-3030.

In Maryland, canoe rentals are available on the island. Call 410-726-3217 or visit http://www.mdcoastalbays.org/ from Memorial Day through Labor Day. In the off-season, rentals are often available in the local area. In Virginia, canoe rentals are available from several local vendors. Call the Chincoteague Chamber of Commerce at (757) 336-6161 for more information. Many outfitters will not rent canoes or kayaks during a small craft advisory.