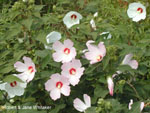 Robert and Jane Whitaker
Many of Assateague's wildflowers species flourish in disturbed areas such as roadsides. In summer, hundreds of rose mallow (Hibiscus moscheutos) line the entrance road with large white blooms. These are joined by collections of yellow, white, purple, or pink flowers produced by various members of the aster family (Asteraceae).
Assateague's wildflowers are as varied as the changing conditions of the island. They constitute important components of the island's natural systems, while also providing beauty and enjoyment to the Seashore's many visitors.