Plan Your Visit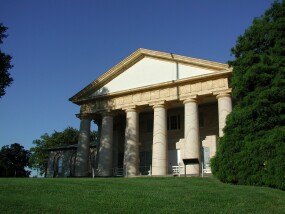 Keith Drews
Arlington House, The Robert E. Lee Memorial is located in Arlington National Cemetery. This grand memorial sits in the middle of what was once an 1,100 acre plantation, owned by George Washington Parke Custis. His only surviving child, Mary Anna Randolph Custis, married Robert E. Lee in 1831. Arlington was the home of the Lee family for nearly thirty years, prior to the Civil War.
Be prepared to spend some time touring the house, walking through the flower garden and visiting the Robert E. Lee Museum and the slave quarters.


Did You Know?

George Washington Parke Custis, builder of Arlington House, was also a painter. Custis painted Revolutionary War battle scenes featuring his 'father', George Washington. He also painted murals of hunting scenes in the back hall of the house.