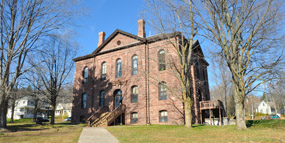 Damon Panek
Bayfield Visitor Center

The HQ VC will be open 7 days a week until September 29. From September 29 to October 17, the visitor center will be open Monday through Friday from 8:00 am to 4:30 pm. The visitor center will close for the season on October 18. Apostle Islands National Lakeshore Headquarters business offices, at the same location on the second floor, will remain open Monday through Friday from 8:00 am to 4:30 pm, except on federal holidays.
Closed Columbus Day, Veteran's Day, Thanksgiving, Christmas, New Year's Day, Martin Luther King Day, and President's Day
Phone:
715-779-3397

TTY/ASCII: 800-877-8339 FedRelay allows the general public to conduct business with the federal government and its agencies. Calls are relayed using specially trained Communications Assistants.

Location:
Located in the old Bayfield County Courthouse on Washington Avenue between Fourth and Fifth Streets, Bayfield.

Closures:
The visitor center is closed on federal holidays, except Memorial Day, Independence Day and Labor Day.

Exhibits:
A good place to begin your National Lakeshore visit, whether by car, afoot, or by private boat, is at the Apostle Islands National Lakeshore Visitor Center in Bayfield. Apostle Islands brownstone was used to construct this stately building, as well as many other elegant public buildings and residences throughout the Upper Midwest. At the visitor center you can view audiovisual programs and study exhibits about the park's history, natural history, and recreation opportunities.

Available Facilities:
Rest rooms, information desk, exhibits, camping permits.