The McLean House front porch is closed, but the house remains open.

The front porch of the McLean House is being renovated requiring entry into the house through the back door.
History & Culture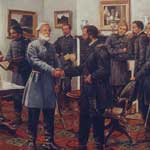 NPS Image
The Beginning of the End

The stories of Appomattox Court House go far beyond the final significant battles of this Nation's bloody Civil War. In addition to the surrender meeting between Generals Lee and Grant these stories from Appomattox show the far reaching effects of the war and its ending on so many different people.


Did You Know?
Colonel Charles Marshall, Lee's aide-de-camp, was the great-nephew of Chief Justice John Marshall. Charles Marshall chose the site of the surrender meeting and was the only Confederate present in the McLean House besides General Lee.