Filming in the park.

Work on a new park film will be done from July 14 to July 17, 2014 that will result in partial closures around the village. The McLean House is expected to have interrupted service on July 15 and July 17.
History & Culture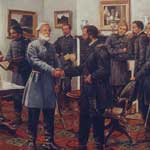 NPS Image
The Beginning of the End

The stories of Appomattox Court House go far beyond the final significant battles of this Nation's bloody Civil War. In addition to the surrender meeting between Generals Lee and Grant these stories from Appomattox show the far reaching effects of the war and its ending on so many different people.


Did You Know?

General George Armstrong Custer, of Little Bighorn fame, received the flag of truce at Appomattox Court House that brought about a cessation of hostilities leading to the surrender meeting between Lee and Grant. The Original Truce Flag is exhibited at Appomattox Court House National Historical Park.