Army of the Shenandoah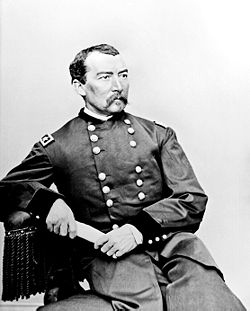 Major General Philip H. Sheridan
Cavalry Corps: Major General Wesley Merritt
(10,979)
1st Division: Brigadier General Thomas C. Devin
1st Brigade: Colonel Peter Stagg
1st Michigan Cavalry
5th Michigan Cavalry
6th Michigan Cavalry
7th Michigan Cavalry
2nd Brigade: Colonel Charles L. Fitzhugh
6th New York Cavalry
9th New York Cavalry
19th New York Cavalry
17th Pennsylvania Cavalry
20th Pennsylvania Cavalry
3rd (Reserve) Brigade: Brigadier General Alfred Gibbs
2nd Massachusetts Cavalry
6th Pennsylvania Cavalry
1st United States Cavalry
5th United States Cavalry
6th United States Cavalry
Artillery
4th United States Artillery, Companies C and E
2nd Division (Army of the Potomac):

Major General George Crook
1st Brigade: Brigadier General Henry E. Davies, Jr.
1st New Jersey Cavalry
10th New York Cavalry
24th New York Cavalry
1st Pennsylvania Cavalry (5 companies)
2nd United States Artillery, Company A
2nd Brigade: Brigadier General J. Irvin Gregg (captured April 7),
Colonel Samuel B. M. Young
4th Pennsylvania Cavalry
8th Pennsylvania Cavalry
16th Pennsylvania Cavalry
21st Pennsylvania Cavalry
1st United States Artillery, Companies H and I
3rd Brigade: Brigadier General Charles H. Smith
1st Maine Cavalry
2nd New York Mounted Rifles
6th Ohio Cavalry
13th Ohio Cavalry
3rd Division: Major General George A. Custer
1st Brigade: Colonel Alexander C. M. Pennington
1st Connecticut Cavalry
3rd New Jersey Cavalry
2nd New York Cavalry
2nd Ohio Cavalry
2nd Brigade: Colonel William Wells
8th New York Cavalry
15th New York Cavalry
1st Vermont Cavalry
3rd Indiana Cavalry, Companies A-F
3rd Brigade: Colonel Henry Capehart
1st New York Cavalry (Lincoln)
1st West Virginia Cavalry
2nd West Virginia Cavalry (7 companies)
3rd West Virginia Cavalry
Cavalry Division (Army of the James): Brigadier General
Ranald S. Mackenzie
1st Brigade: Colonel Robert M. West
20th New York Cavalry
5th Pennsylvania Cavalry
2nd Brigade: Colonel Samuel P. Spear
1st District of Columbia Cavalry (Battalion)
1st Maryland Cavalry
11th Pennsylvania Cavalry
Artillery
Wisconsin Light Artillery, 4th Battery
Did You Know?

Two battles were fought here before the surrender. On April 8th, Union cavalry attacked Confederate artillery at Appomattox Station. The next morning, Confederate troops attempted to break out, but were halted by Union infantry and cavalry in the battle of Appomattox Court House.