The McLean House front porch is closed, but the house remains open.

The front porch of the McLean House is being renovated requiring entry into the house through the back door.
Army of Northern Virginia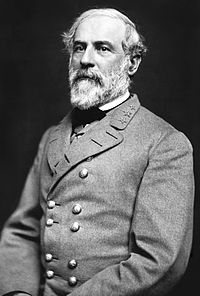 General Robert E. Lee
(28,231)
First and Third Army Corps (Combined)
(Numbers in parentheses indicate the number of soldiers paroled at Appomattox)
Provost Guard: Major D. B. Bridgeford
1st Battalion Virginia Infantry (139)
44th Battalion Virginia Cavalry, Company B
Escort
39th Battalion Virginia Cavalry (92)
Engineers: Colonel T. M. R. Talcott
1st Confederate Engineers (191)
2nd Confederate Engineers (94)
Artillery: Brigadier General William N. Pendleton (artillery is divided up between the four infantry and one cavalry corps)
Did You Know?

In the week between evacuating Richmond on April 2nd and arriving in Appomattox on April 8th, Lee's Confederate forces lost half their numbers, from roughly 60,000 men to about 30,000.