Beginning Oct. 28, 2013, the McLean House front porch will be closed, (house to remain open).

The front porch of the McLean House is being renovated requiring entry into the house to through the back door beginning Oct. 28.
Army of Northern Virginia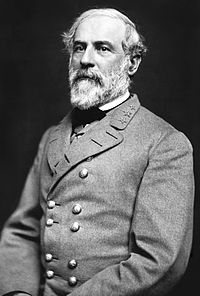 General Robert E. Lee
(28,231)
First and Third Army Corps (Combined)
(Numbers in parentheses indicate the number of soldiers paroled at Appomattox)
Provost Guard: Major D. B. Bridgeford
1st Battalion Virginia Infantry (139)
44th Battalion Virginia Cavalry, Company B
Escort
39th Battalion Virginia Cavalry (92)
Engineers: Colonel T. M. R. Talcott
1st Confederate Engineers (191)
2nd Confederate Engineers (94)
Artillery: Brigadier General William N. Pendleton (artillery is divided up between the four infantry and one cavalry corps)
Did You Know?
Sam Sweeney of Appomattox County, Virginia was the "Minstrel Man" for General J.E.B Stuart, and grew up on the grounds of what is now, Appomattox Court House National Historical Park.