Memorial Day Observance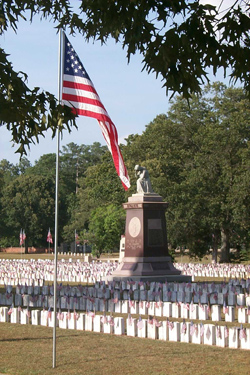 NPS/Alan Marsh
Memorial Day has long been the most important day of the park's event calendar, with preparations beginning months in advance, leading up to a week's worth of activity involving staff, partners, volunteers, and the American public.
Join us to remember, or participate by volunteering in the Flag Program, or as a Cemetery Warden. Contact us to ask how you can help.
---
Each year the park hosts a series of activities to commemorate the Memorial Day Holiday. Learn more about previous speakers at the Memorial Day Service.
On the Friday before the holiday, the Avenue of Flags is raised in the National Cemetery by volunteers. Throughout the weekend, volunteers honor our veterans by participating in the Flag Program. Saturday morning, volunteers including scout and youth groups from across the state, place flags throughout Andersonville National Cemetery. During the weekend volunteer Cemetery Wardens also assist with maintaining the gravesite flags and interacting with visitors to the cemetery. On Tuesday, following Memorial Day, the flags are removed by volunteers.
The focal point of all these activities is the Sunday afternoon Memorial Day ceremony which takes place at the National Cemetery rostrum. The service traditionally includes a musical program, speaker, and the placement of memorial wreaths.
2014 Memorial Day Weekend Schedule

The National Cemetery is open for visitors throughout the weekend, from 8:00 a.m. to 5:00 p.m.
Friday, 23 May: Avenue of Flags raised in the National Cemetery
Saturday, 24 May: Placement of flags at grave sites
Sunday, 25 May: 2:00 p.m. Memorial Day Observance Program.
Information for organizations interested in presenting a wreath during the formal program. [PDF File]
Monday, 26 May, Memorial Day
Tuesday, 27 May: Removal of flags from grave sites

Did You Know?

Around 30,000 Americans were kept as prisoners of war in and around New York City during the Revolutionary War. Most of these prisoners were held in warehouses, churches, and on ships in nearby harbors. An estimated 18,000 (60%) died as prisoners from 1775 to 1783. Of those, over 10,000 are thought to have perished on prison ships, most notably the Whitby and the Jersey.