Living History Weekend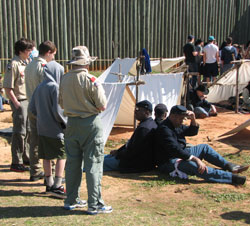 NPS/Brad Stribling
On March 9 and 10, 2013, living historians, re-enactors, and park rangers will help you understand the lives of Union and Confederate soldiers as well as civilians near the end of the Civil War at the actual site of the infamous prison.
Throughout the day, the staff and volunteers at Andersonville National Historic Site will lead you through the events which took place every day within the Andersonville prison (Camp Sumter) as well within the Confederate camps and offices.
The living historians will explain to you the activities and challenges that the soldiers from both sides faced daily:
How did these men endure the many hardships they confronted daily? Were these men any different than the normal soldier in the field? What was the reaction of the young boys and old men assigned to the operation of the overcrowded prison?
Join us to gain a better understanding of the Camp Sumter experience during the Civil War.
Did You Know?

The flight suit worn by Brigadier General (then Major) Rhonda Cornum (Gulf War POW) is on display in the National Prisoner of War Museum. Brigadier General Cornum was captured during an attempt to rescue downed pilot Captain Williams Andrews, who also became a POW.