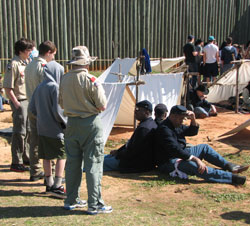 NPS/Brad Stribling
The park holds a Living History Weekend once a year in March. During this event, living historians, and park staff share stories of United States prisoners, Confederate guards and civilians at Andersonville prison during the last months of the Civil War.
Living historians are volunteers who use historical clothing, accessories and living conditions to give impressions of the past. While modern citizens can never truly capture the brutal intensity of a Civil War prison, these individuals attempt to convey the sense of desperation, isolation, hopes and fears that define captivity. Youth volunteers also portray the heartbreaking youth of many prisoners of war.
Each living history weekend strives to present different aspects of the prison experience. Weekends can also feature guest speakers and on-site programs about the use of artillery at a prison, the role of Catholic priests or Masons in aiding the prisoners, and the complex views held by Southern civilian women on the condition of Yankee prisoners. Living historians offer a valuable opportunity for families to discuss with kids about the causes and effects of the Civil War, and that not all soldiers perished in battles and that each soldier possessed the power to end or save lives. Prison life offers many chances to consider the burden of following orders and the opportunities for mercy or murder during war.
Living History weekends are scheduled for:

March 12-13, 2016