Getting Around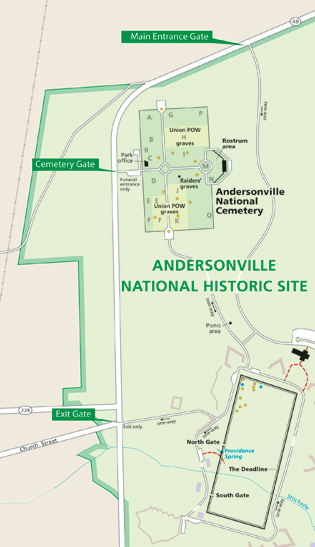 NPS/Andersonville NHS
Three gates along Highway 49 provide access to the main part of the park:
The Main Entrance Gate is the northern most gate, and is the primary way visitors should enter the park. The entrance gate provides direct access to the National Prisoner of War Museum.
The Cemetery Gate is the middle gate and is used for funerals only.
The historic Exit Gate is directly across from the town of Andersonville and is used as the primary means of exit by all visitors.


Did You Know?

Most visitors exploring Andersonville National Cemetery are unaware that the New York monument has an image sculpted on the reverse side of the memorial. The image on the reverse depicts two Andersonville prisoners. One is seen as dejected while the other appears hopeful. An angel approaches the prisoners carrying an olive branch, the symbol of peace, which was used to represent the reconciliation between the North and the South. More...