Getting Around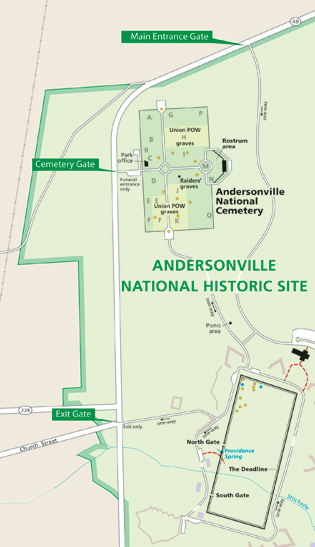 NPS/Andersonville NHS
Three gates along Highway 49 provide access to the main part of the park:
The Main Entrance Gate is the northern most gate, and is the primary way visitors should enter the park. The entrance gate provides direct access to the National Prisoner of War Museum.
The Cemetery Gate is the middle gate and is used for funerals only.
The historic Exit Gate is directly across from the town of Andersonville and is used as the primary means of exit by all visitors.


Did You Know?

Around 30,000 Americans were kept as prisoners of war in and around New York City during the Revolutionary War. Most of these prisoners were held in warehouses, churches, and on ships in nearby harbors. An estimated 18,000 (60%) died as prisoners from 1775 to 1783. Of those, over 10,000 are thought to have perished on prison ships, most notably the Whitby and the Jersey.