Brochures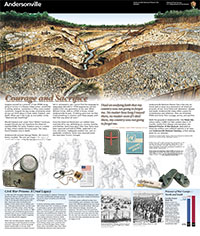 Brochures are made available on the park website or upon request either by telephone, in writing or by e-mail.
The brochures listed below are all PDF documents. Adobe Reader is required to open these documents. Users with slower connections may find it easier to download the documents before viewing them. To do that, right-click and select "save target as". Then, open the documents with your Adobe Reader.

Andersonville Map and Guide Brochure [3MB PDF]
Updated 2013
Bibliography
A brochure containing a selected bibiliography for Andersonville and Prisoners of War throughout American History. Updated in December 2013
Site Bulletins
A site bulletin is generally a publication produced in-house by the park to provide an in-depth review of park related themes and topics. Formatted to fit on legal-size paper unless otherwise noted.
---
When We Held Each Other Prisoner: 150th Anniversary Commemoration, January 2014-December 2015 [PDF File]
Commemorating the story of the Andersonville prison presents a unique challenge. As opposed to a military action conducted over days or weeks, the Civil War prisoner of war story is a longer, more complicated tragedy measured, in the words of one prisoner, "by inches." Updated in December 2013.
Documenting Prisoners of War held at Andersonville [PDF File]
Every day visitors come to the park and inquire how they can learn more about their ancestors who were held, died, or worked here during the Civil War. This brochure explains the resources available and the park and provides advice on how to find out more. Updated in August 2011.
Preserving the Prison; Saving a Nation: The Civilian Conservation Corps at Andersonville [PDF File]
In 1935 & 36, a Civilian Conservation Corps camp operated in what is now Andersonville National Historic Site; their work was critical in preserving the prison site. Updated in May 2012.
Independence Day 1864 [PDF File]
Prisoner diary accounts of Andersonville on July 4, 1864. Updated in July 2012.
Illustrating Sacrifice and Courage: Telling the Prisoner of War Story Through Architecture, Art, and Sculpture [PDF file]
Updated in October 2012, this site bulletin explores how art, architecture and sculpture are used at the National Prisoner of War Museum to convey the prisoner of war experience to visitors.
Civil War to Civil Rights [PDF File]
For a century after the Civil War, Andersonville was a site and symbol of the struggle for equality for African Americans. Updated February 2013
Preserving Places of Captivity: Civil War Military Prisons in the National Parks [PDF File]
While Andersonville is the most famous Civil War prison, it is only one of many Civil War military prisons that are preserved by the National Park Service. Updated in August 2013

Did You Know?

Shebang was a name given by the prisoners at Andersonville to the crude shelters that they constructed, many of wood and scraps of cloth. Lucky men might have a shelter-half or an extra blanket. Not so lucky ones would use an old shirt to provide relief from the hot summer sun. More...