New Operating Hours for the National Prisoner of War Museum

Beginning Monday, May 13, 2013, the National Prisoner of War Museum will adopt new operating hours of 9:00 a.m. to 4:30 p.m. daily. More »
Brochures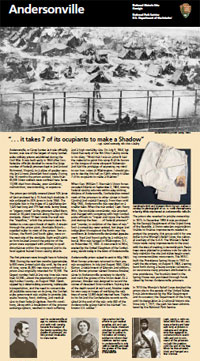 Brochures are made available on the park website or upon request either by telephone, in writing or by e-mail.
The brochures listed below are all PDF documents. Adobe Reader is required to open these documents. Users with slower connections may find it easier to download the documents before viewing them. To do that, right-click and select "save target as". Then, open the documents with your Adobe Reader.

Andersonville Map and Guide Brochure [772KB PDF]
Updated 2006; reprinted 2011
Bibliography
A brochure containing a selected bibiliography for Andersonville and Prisoners of War throughout American History.

Did You Know?

The largest artifact in the National Prisoner of War Museum is the "Sack of Cement Cross" from Camp O'Donnell in the Philippines.  The total height of the cross is 8 ft.  The cross was built as a memorial to American prisoners who perished in the camp.