Avenue of Flags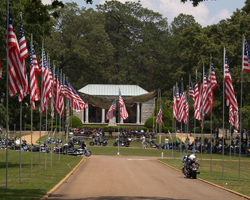 NPS/Alan Marsh
The Avenue of Flags is the display of a multiplicity of U.S. flags usually arrayed on both sides of the principal avenue or drive that leads from the main entrance or gate into the cemetery. The Avenue of Flags cemetery and reinforces patriotism, national pride and represents a visible, bold and proud display of flags.
In most cases, the Avenue of Flags is only flown on days of special ceremonial significance such as Memorial Day. At Andersonville National Cemetery, the Avenue of Flags display is arrayed five times each year: for the National Former POW Recognition Day, Memorial Day, Independence Day, National POW/MIA Recognition Day and Veterans Day weekends.
Did You Know?

On April 9, 1942 on the Bataan peninsula in the Philippines, 10,000 American soldiers became prisoners of the Japanese. Exactly 56 years later the National Prisoner of War Museum was dedicated. Many former POWs and their families attended, including survivors of the Bataan Death March.