New Operating Hours for the National Prisoner of War Museum

Beginning Monday, May 13, 2013, the National Prisoner of War Museum will adopt new operating hours of 9:00 a.m. to 4:30 p.m. daily. More »
Avenue of Flags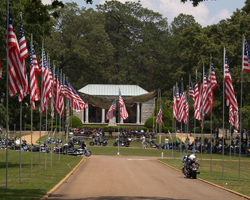 NPS/Alan Marsh
The Avenue of Flags is the display of a multiplicity of U.S. flags usually arrayed on both sides of the principal avenue or drive that leads from the main entrance or gate into the cemetery. The Avenue of Flags cemetery and reinforces patriotism, national pride and represents a visible, bold and proud display of flags.
In most cases, the Avenue of Flags is only flown on days of special ceremonial significance such as Memorial Day. At Andersonville National Cemetery, the Avenue of Flags display is arrayed five times each year: for the National Former POW Recognition Day, Memorial Day, Independence Day, National POW/MIA Recognition Day and Veterans Day weekends.
Did You Know?

When rations were issued, the wagon would enter through the North Gate in the morning. In the evening, the wagon would then take the deceased prisoners from the South Gate and Hospital to the Dead House and eventually to the cemetery.