Civil War Prisoner Burials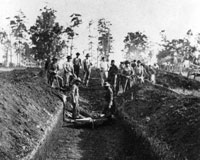 A. J. Riddle/National Archives
The burial trenches used to provide a final resting place for the Union prisoners who died here during the operation of Camp Sumter in 1864 & 1865 form the bulk of the graves found in today's National Cemetery.
The dead were buried side by side, and each body was identified by name when possible and assigned a number. Grave numbers were placed on primitive wooden markers, later replaced by the United States Army in 1865.
Historic Grave
Site Numbers

Section

Dates of Death

1 - 2645

K

2/27/1864-6/29/1864

2646 - 4151

J

6/29/1864-7/28/1864

4152 - 5694

F

7/28/1864-8/15/1864

5695 - 7267

E

8/15/1864-8/30/1864

7268 - 12853

H

8/30/1864-04/28/1865

12854 - 13189

B

13190 - 13465

C

13466 - 13729

B

13730 - 13872

A
Civil War Soldiers and Sailors System

This searchable database contains brief service histories for most Civil War soldiers. Read More

Find A Grave at Andersonville

Search the Andersonville National Cemetery and nationwide for burial locations of veterans using the VA's Nationwide Gravesite Locator. Read More
Did You Know?

A small number of Andersonville prisoners were able to grow crops such as beans and corn. Prisoner diaries and sketches mention this fact and a photograph taken in the summer of 1864 shows corn stalks growing near a shelter. Such an undertaking would require constant guard and demonstrates that prisoners knew they might be captives at Andersonville for quite some time.