Civil War Prisoner Burials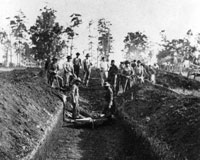 A. J. Riddle/National Archives
The burial trenches used to provide a final resting place for the Union prisoners who died here during the operation of Camp Sumter in 1864 & 1865 form the bulk of the graves found in today's National Cemetery.
The dead were buried side by side, and each body was identified by name when possible and assigned a number. Grave numbers were placed on primitive wooden markers, later replaced by the United States Army in 1865.
Historic Grave
Site Numbers

Section

Dates of Death

1 - 2645

K

2/27/1864-6/29/1864

2646 - 4151

J

6/29/1864-7/28/1864

4152 - 5694

F

7/28/1864-8/15/1864

5695 - 7267

E

8/15/1864-8/30/1864

7268 - 12853

H

8/30/1864-04/28/1865

12854 - 13189

B

13190 - 13465

C

13466 - 13729

B

13730 - 13872

A
Civil War Soldiers and Sailors System

This searchable database contains brief service histories for most Civil War soldiers. Read More

Find A Grave at Andersonville

Search the Andersonville National Cemetery and nationwide for burial locations of veterans using the VA's Nationwide Gravesite Locator. Read More
Did You Know?

The site of Andersonville prison was owned by both the Grand Army of the Republic and the Woman's Relief Corp before being transferred to the federal government in 1910. The prison site was administered, along with Andersonville National Cemetery, by the Department of the Army until 1971.