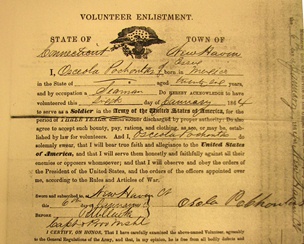 NPS/Andersonville National Historic Site
After the Civil War, Cavada was appointed as a consul in Cuba. In 1869 he resigned, and joined the Cuban resistance against Spanish rule in the Cuban Ten Years War. Although he survived his prisoner of war experience in Libby Prison, he would not be so fortunate in Cuba. Captured by Spanish forces, he was executed by firing squad in July of 1871.
Although Cavada is the most prominent Hispanic prisoner held during the Civil War, he was not the only one to suffer in captivity for his new country. Juan Castaño was a Spaniard living in Buffalo, NY when he enlisted in the 140th New York as a substitute in 1863. Captured at Bristoe Station in October 1863, Castaño was first held in Richmond before being transferred to Andersonville in the Spring of 1864. He died of diarrhea on May 17, 1864 and is buried in grave 1,177 in Andersonville National Cememtery. Osceola Pochontas was born around 1838 in Mexico. Prior to enlistment in the Union Army he worked as a seaman, which might help explain how he ended up in Connecticut sometime after 1860. Pochontas enlisted in Company L of the 1st Connecticut Cavalry on January 6, 1864. He was captured on May 5, 1864 at Craig's Church, VA and sent to Andersonville. He died on October 11, 1864 of scurvy and is buried in grave 10,676 in the Andersonville National Cemetery. To date, Pochontas and Castaño Pochontas are the only documented Hispanic soldiers to be held at Andersonville Prison.