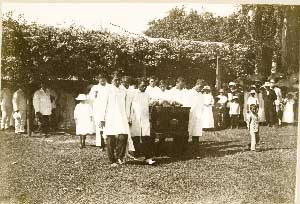 Connecticut State Library
Atwater, eager to publish the list, took his copy back from the army at the end of the expedition.
He was charged with larceny in a court martial and sentenced to prison. After a few months he was released and went to work with Barton in her Missing Soldiers Office. In 1866, with Barton's assistance, the
New York Tribune published Atwater's Andersonville Death Register
, bringing Atwater a great deal of public notoriety.
He toured the country with Barton lecturing on Andersonville to raise money for the Missing Soldiers Office before joining the State Department as a consul in the 1870s. First stationed in the Seychelle Islands, Atwater eventually settled in Tahiti, where he became a respected businessman and married a member of the royal family. A monument was erected in Atwater's honor in his hometown of Terryville, Connecticut in 1907, and he died in San Francisco in 1910. He was buried in a royal ceremony in Tahiti.
Atwater was one of the most important enlisted soldiers of the Civil War. Around half of all Civil War dead are today marked in unknown or unmarked graves, and the rate is higher in most southern prisons. However, thanks to the work of Atwater and the other paroled clerks to maintain accurate records, and his courage to secretly copy and sneak the list out at great personal risk, around ninety five percent of the prisoner graves at Andersonville are marked.