For Kids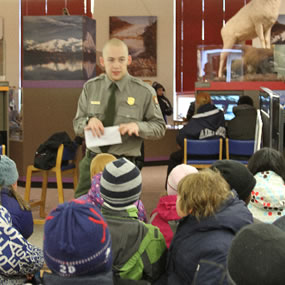 There is lots to do at the Anchorage Alaska Public Lands Information Center! We have scavenger hunts, movies, games, and much more.

If you can't pay us a visit you can still do a LOT of fun activities on our website!
For more information visit: http://www.alaskacenters.gov/anchorage-for-kids.cfm

Did You Know?

The map of Alaska can be roughly depicted by facing the back of your right hand toward you, and extending your thumb down and your forefinger straight out; fold back the remaining fingers.  The Canada-Alaska border is the cuff of a long-sleeved shirt.