For Kids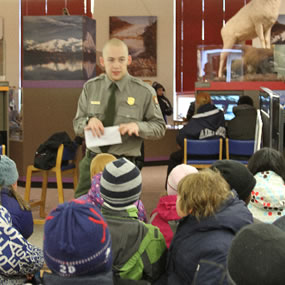 There is lots to do at the Anchorage Alaska Public Lands Information Center! We have scavenger hunts, movies, games, and much more.

If you can't pay us a visit you can still do a LOT of fun activities on our website!
For more information visit: http://www.alaskacenters.gov/anchorage-for-kids.cfm

Did You Know?

The reason some ice, usually glacier, is blue is from immense pressure forcing out any bubbles, thus causing blue to be reflected. Cloudy days also cause most colors other than blue to be absorbed making cloudy days the best days to view blue ice.