For Kids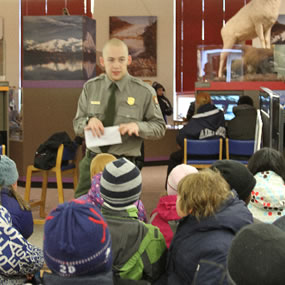 There is lots to do at the Anchorage Alaska Public Lands Information Center! We have scavenger hunts, movies, games, and much more.

If you can't pay us a visit you can still do a LOT of fun activities on our website!
For more information visit: http://www.alaskacenters.gov/anchorage-for-kids.cfm

Did You Know?

The Aniakchak Caldera is six miles (10 kilometers) across and 3,000 feet (1000 meters) deep. The eruption that created this caldera happened approximately 3,500 years ago and caused the collapse of a 7,000 foot mountain.