For Kids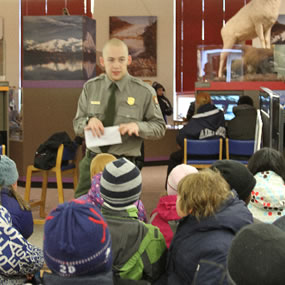 There is lots to do at the Anchorage Alaska Public Lands Information Center! We have scavenger hunts, movies, games, and much more.

If you can't pay us a visit you can still do a LOT of fun activities on our website!
For more information visit: http://www.alaskacenters.gov/anchorage-for-kids.cfm

Did You Know?

Approximately 50% of those who attempt to climb Mt. McKinley succeed. The other half turn back due to adverse weather conditions, altitude sickness, frostbite, or injury. 2005 was a record breaking season with 1,339 mountaineers from 37 countries. There was 774 climbers to reach the summit.