For Kids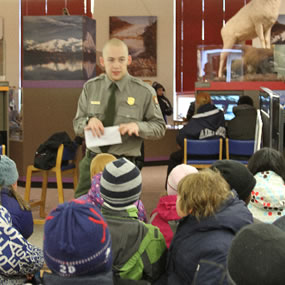 There is lots to do at the Anchorage Alaska Public Lands Information Center! We have scavenger hunts, movies, games, and much more.

If you can't pay us a visit you can still do a LOT of fun activities on our website!
For more information visit: http://www.alaskacenters.gov/anchorage-for-kids.cfm

Did You Know?

Prince William Sound was the site of the largest oil spill in U.S. when the 987 foot Exxon Valdez tanker, carrying a full cargo of 53 million gallons of crude oil, struck Bligh Reef on March 24, 1989. Before the tanker leak could be stopped, more than 11.3 million gallons oozed into the ocean.