Purchase Alcatraz Tickets in Advance

Tickets for Alcatraz frequently sell out in advance, especially around holidays and weekends. Night tour tickets sell out even sooner, as much as a month or more in advance. Order your tickets up to 90 days in advance to avoid disappointment. More »
Guided Tours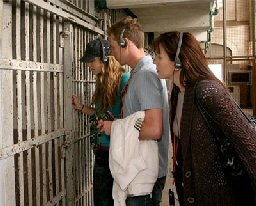 The Alcatraz Cellhouse Audio Tour is available in English, Spanish, French, German, Italian, Dutch, Japanese, Korean, Portuguese, and Mandarin . It is also available in an English Braille version. It is included when you purchase your ferry ticket. The audio tour covers the inside of the cellhouse (at the top of the island) during the penitentiary era (1934 - 1963). To obtain refunds for the audio tour should you not wish to or not be able to utilize it ask for a supervisor in the cellhouse. Additional exhibits and videos available on the island (at no additional charge) cover other aspects of Alcatraz's unique history.
Daily information regarding special programs, guest authors, and other opportunities to learn about the history of Alcatraz is covered in an orientation you will receive on arriving on the island, and on program boards at the dock and in the cellhouse.


Did You Know?

After incubation lasting four weeks, a gull chick breaks out of its egg without assistance from its parents. At hatching, the chick is fully covered with down and is soon able to open its eyes and stand up to walk about the nest.