Purchase Alcatraz Tickets in Advance

Tickets for Alcatraz frequently sell out in advance, especially around holidays and weekends. Night tour tickets sell out even sooner, as much as a month or more in advance. Order your tickets up to 90 days in advance to avoid disappointment. More »
Alcatraz Historic Preservation Projects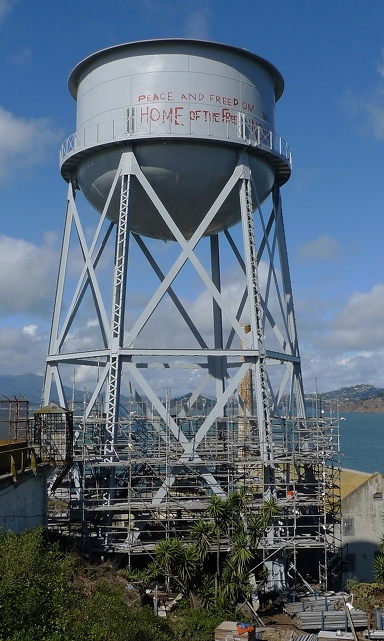 National Park Service Photo by Craig Glassner
Not only has Alcatraz proven to be a harsh environment for convicts incarcerated on the island, but the salty marine air has proven to be extremely harsh to the island's many historic structures. Corrosion has taken its toll on many metal structures including the guard towers and also on the concrete. The National Park Service is making strides at addressing this backlog of maintenance. Between 2011 and 2013, we are spending significant resources to make improvements to both the visitor experience and also to preserve the many historic buildings on the island. Much of this work is being done outside of normal operating hours to minimize the disturbance to visitors. Some work, however, is being done during open hours and we apologize for any inconvenience that this may cause.
Thank you for your patience.
Here is a list of some of these recent, current, and future projects: Alcatraz Landing (Pier 31.5): The parking area has been realigned to provide more accessible parking spots and to create a larger walking zone. New exhibits have been installed at the main entrance to Alcatraz along with picnic tables, a large scale island model, and a touch model.
Auditorium: New larger and more comfortable seats were installed in Barrack Bldg Auditorium.
Barracks Bldg. Bridges: The metal bridges behind the barracks were repaired of rust and repainted in July 2012.
Cell House - Band Practice Room: New lighting consistent with the adjacent retail area will be installed. This will beautify the room and will enhance lighting for the frequent art exhibits rotated through the room. The room may be temporarily closed for a 3-5 day installation period during the installation period.
Cell House - Roof and Solar Project: A large array of solar panels were installed on a newly finished roof of the cell house. Once fully running, we anticipated that these solar panels will provide approximately 60% of the island's electricity.
Cell House - Citadel and Shower Room: Repair work in the basement of the Cell House (Citadel) began in 2012 to strengthen the building's foundation. In addition, spalling concrete from the Shower Room's ceiling is also being replaced. Unfortunately, that means the queuing area for the audio tour is halved in size until at least January 2013.
Cell House - Outer Walls and Window: NPS just received funding to stabilize and rehabilitate portions of the Cell House walls and windows. Most of the work addresses the exterior walls but some work will be done inside such as in the Dining Hall. This work has not yet been scheduled.
China Alley Boardwalk: Lowe's Home Improvement donated materials to extend the China Alley Boardwalk by another 60 feet. This will enable us to open two additional casemates for special exhibits.
Barrack's and Warden's Office Ramps. Lowe's Home Improvement donated materials to replace two accessible ramps on Alcatraz. The ramp at the Barrack's Building entrance and the ramp at the Warden's Office. This work will take place outside of normal visitor hours in November and December.
Dock Queue: We are realigning the queue on the Alcatraz Dock to improve not only the visual esthetic but also to improve the efficiency of loading the ferry.
Dock Pillars: To increase the dock's lifespan, the pillars underneath it are being repaired and replaced.
Dock Guard Tower: The guard tower on the Alcatraz Dock is going covered with shrink wrap type material and will be repaired and repainted. Much of this work will take place during normal visitor hours and we will do our best to minimize noise impacts.
Flagpole: A new flagpole will be installed on Eagle Plaza. The new pole will feature ropes inside the pole and a swivel that will minimize flag tangling on windy days.
New Industries Building: A new tram will be added to the island and operated by Alcatraz Cruises. This will enable us to provide full accessibility for those wishing to see the New Industries Buildings.
Puppy Stairs: Through a five-year partnership, Chico State Field School completed repair and rehabilitation of the entire Puppy steps. These steps provide access for special tours to the Alcatraz Gardens.
Quartermaster Building: The Quartermaster Building is critical for island operations and houses much of the islands retail and maintenance infrastructure. Seismic stabilization is being planned and work is expected to being in 2013.
Warden's House Slope Stabilization: The slope below the Warden's House has been slowly receding. A project to stabilize critical portions of the slope below the Warden's House and Lighthouse is about to begin. Stabilization includes drilling and metal rock bolt installation into the hillside and a shotcrete covering that matches the surrounding cliff face. Portions of the parade ground will be closed during 2012/13 winter. During shotcrete application, the overlook below Eagle Plaza may also be intermittently closed to the public.
Water Tower: The Alcatraz Water Tower has been completely stabilized. Replacement structural steel and a new roof was installed, heavy corrosion was removed and the entire tower has been coated with high performance coatings. We expect to remove the scaffolding and protective covering in early October.
Did You Know?

Western gulls express themselves with at least twelve different vocalizations which may indicate agitation, identification, alarm and willingness to feed chicks or mate.