Directions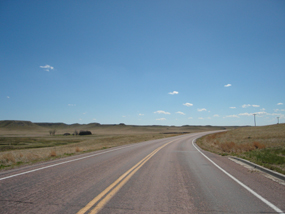 Photo by Jonathan S. Garcia
Plane
Nearest air service is available through Western Nebraska Regional Airport in Scottsbluff, Nebraska, approximately 50 miles southeast of the monument.
Car
Access to region by automobile is possible via Interstates 80, 90 and 25, and various state highways and county roads.

Visitors traveling east-west on U.S. Highway 26, turn North on State Highway 29 at Mitchell, Nebraska. The park is 34 miles from Mitchell. Turn east on River Road (paved) and follow the National Park Service signs for three miles.

Visitors traveling on U.S. Highway 20, turn South on State Highway 29 at Harrison, Nebraska. The park is 22 miles from Harrison. Turn east on River Road (paved) and follow the National Park Service signs for three miles.

The park is also accessible via an unpaved 25 mile county road (River Road) from Marsland on Nebraska Highway 2. NOTE: Due to the drought in the region, travel on the 25 mile unpaved portion of River Road is not recommended for motorcycle travel and even vehicle travel on this road may want to be reconsidered. The lack of rain makes it hard for the counties to maintain these roads as both soft sandy places and washboards are beaten out by traffic. Please consider the use of Highway 29 north of Mitchell or south of Harrison to access the park.
Aside from River Road and the designated parking areas, visitors are not allowed to drive vehicles within the park boundaries. Vehicles driven by staff, adjacent landowners, and other individuals performing official business are allowed to drive inside the park on non-developed roads.
Public Transportation
No public transportation is available at the park.


James Cook riding

Early residents spent many hours traveling on a horse.

Team and buggy

While visiting the neighbors, the team would wait patiently.

Ready for a road trip

These folks are ready for at trip to the fossil hills.

Crossing the Niobrara River

Before bridges were built this was how to cross the Niobrara River.
Did You Know?
The name, Agate Fossil Beds National Monument, came from the name of James Cook's Agate Springs Ranch. Travelers to the ranch would say that they were going to Agate. The agate in the area is of a moss agate type, but is not a reason why the park was established. More...