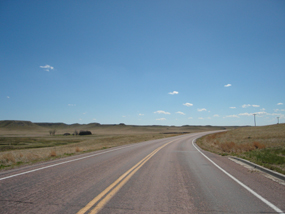 Photograph by Jonathan S. Garcia.
If traveling east or west on
U.S. Highway 20
, turn south on State Highway 29 in Harrison, Nebraska. Twenty-two (22) miles south of Harrison, turn east on River Road (it's paved) and follow the National Park Service signs for three miles to reach the monument's visitor center and museum.
The park is also accessible from Marland, Nebraska, to the east via an unpaved 25-mile county road (River Road). NOTE: Due to dry conditions in the region, travel on the 25-mile unpaved portion of River Road is not recommended for motorcycles, recreational vehicles, or other automobiles not designed for off-road conditions. If traveling by these means, please consider arriving at the park by way of Highway 29 north out of Mitchell or Highway 20 south out of Harrison.
Aside from on River Road and in the designated parking areas within the monument's boundaries, visitors are prohibited from driving vehicles. Only vehicles operated by NPS staff, adjacent landowners, and other individuals performing official business are permitted to use the monument's non-developed roads.