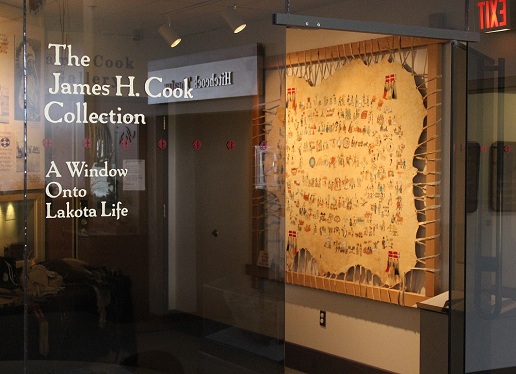 A National Park Service photograph.
In the decades when the earliest paleontologists visited and worked at the Agate Springs quarries, other friends of James H. Cook and his family gathered at the Agate Springs Ranch three miles to the west. Following their 150-mile wagon trips from the Pine Ridge Reservation, Chief Red Cloud of the Oglala Lakota and his many family and friends camped in tepees bordering the Niobrara River to the east of the ranch house. While there, they told stories and danced, hunted, butchered beef they'd been given, tanned hides, and worked for the Cooks.

For decades afterward, area residents remembered venturing to the Cook place to see and participate in the festivities, including dancing, singing, and playing baseball games. Many then and later also visited with out-of-town friends and family to tour the Cook's growing museum and to hear from James about the hundreds of gifts he'd received, among them, Red Cloud's shirt and moccasins, pipestone pipes and heart bags, Crazy Horse's whetstone, parfleches, bows and arrows, American Horse's and others' war clubs, stone and bone tools, buckskin suits, and headdresses. Visitors today can see these gifts and more, treasures all, displayed in the monument's James H. Cook gallery in the visitor center museum.