Zion National Park Public Health Update
Changes in Park Operations - Wednesday, March 25, 2020 - 12:00 PM
The following precautions are being taken due to the novel (new) coronavirus (COVID-19) until further notice.
The Angels Landing Trail is closed from Scout Lookout to the end of the trail. The West Rim Trail will remain open.
All park campgrounds are closed. With this closure, it is important to remember that no other areas in the park are authorized for camping.
All Zion Lodge operations will be closed from March 20 through May 21, 2020.
The collection of entrance fees has been temporarily suspended at Zion National Park. This is being done to help limit exposure of park staff and visitors to the novel (new) coronavirus (COVID-19).
Zion National Park has temporarily suspended the park's shuttle operation. The park itself remains open and visitors will be allowed to drive up the Zion Canyon Scenic Drive until the limited parking in the main canyon has filled.
All visitor contact stations are closed until further notice because of safety and health concerns. This includes the Zion Canyon Visitor Center, Human History Museum, and Kolob Canyons Visitor Center.
Park rangers will be available in real time to answer phone calls and emails during regular business hours for information and trip planning. Phone: (435) 772-3256 Email: zion_park_information@nps.gov
The Zion Forever Project Park Store, in the Visitor Center is closed for health and safety concerns.
Ranger programs and park film showings are canceled until further notice.
Wilderness permits continue to be available following new online procedures.
Tunnel escort fees will be solicited via mail-in envelopes.
Trail Rides are only allowing groups of less than 10.
Zion National Park is focused on ensuring employees, their families, volunteers, and visitors are safe by following the most current guidance from the CDC, OPM, OEM, and other federal, state, and local health authorities.

Zion National Park visitors can be assured that the facilities in the park continue to monitor conditions and maintain high standards related to the health and wellness of staff and visitors. Park and concession staff are working to maintain clean and healthy facilities in accordance with CDC guidance.
Zion is Busy
The health and safety of our visitors, employees, volunteers, and partners at Zion National Park is our number one priority. The Centers for Disease Control and Prevention (CDC) guidance for this pandemic includes social distancing. We are concerned that current visitation patterns are not meeting current CDC guidance on social distancing. If you are coming to the park, please choose to visit areas that are not crowded to allow for adequate social distancing. Areas like Angels Landing, Riverside Walk, and Upper Emerald Pools are some of our busiest trails.
As services are limited, the National Park Service urges visitors to:
Pack out everything you bring into a park.
Plan a visit at times other than busiest of the day.
Maintain social distance from other visitors.
Park only in designated areas.
If you encounter a crowded trail-head or overlook, go elsewhere.
We are closely monitoring COVID-19 with the federal, state, and local authorities. Outdoor spaces remain accessible to the public in accordance with the latest health guidance. The National Park Service encourages people who choose to visit open park areas during this pandemic to adhere to guidance from the CDC and state and local public health authorities to protect visitors, employees, and more vulnerable populations.
Social Distancing in Zion
According to The CDC, The Utah Department of Health, and the Southwest Utah Public Health Department, people are being asked to avoid unnecessary travel. If you must travel, please practice social distancing to reduce the risk of spreading COVID-19. Travel with groups of 10 or less and stay 6 feet apart from other people. You can help to slow the spread by following these guidelines. In Zion, it is difficult to follow these guidelines on our busy trails (areas like Angels Landing, Riverside Walk, or Upper Emerald Pools). If trailhead parking is full, another good option is to enjoy the Scenic Drives in the park instead. For more information on these temporary precautions, please read: The President's Coronavirus Guidelines for America -- 15 Days to Slow the Spread of Coronavirus (COVID-19) at Whitehouse.gov.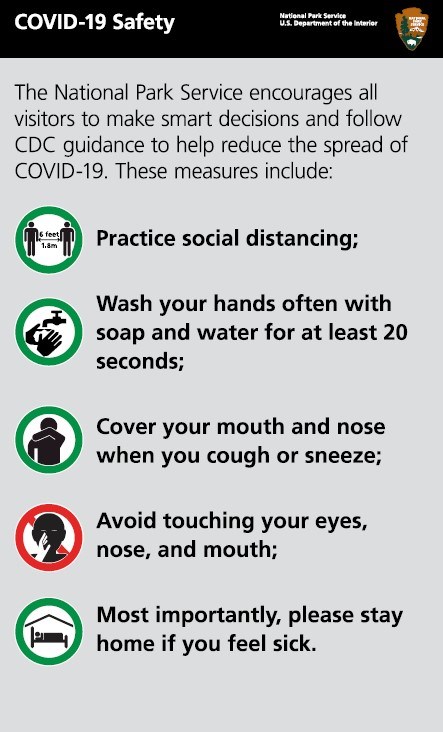 National Park Service Public Health Service Officers Recommend that Everyone Should Take the Following Routine Precautions:
Wash your hands often with soap and water for at least 20 seconds. If soap and water are not available, use >60% alcohol-based hand sanitizer.

Avoid touching your eyes, nose, and mouth with unwashed hands.

Avoid close contact with people who are sick.

When you cough or sneeze, cover your mouth and nose with a tissue, or do so into your elbow. Dispose of the tissue and wash your hands again.

In the office, keep 6 feet of separation between yourself and others to reduce the potential spread of infection.

Use virtual tools instead of holding in-person meetings.

Clean and disinfect frequently touched objects and surfaces.

Most important, if you experience flu symptoms or any serious infection or virus, please stay home to avoid exposing others.

Follow this web page for the latest public health updates from the National Park Service:
https://www.nps.gov/aboutus/news/public-health-update.htm
Last updated: March 25, 2020