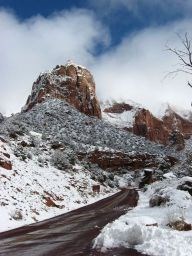 The Zion National Park Website is constantly adding interesting new features this year with more to follow. Please check back on this page regularly to find out What's New.


2011 FEE FREE DAYS
Secretary of the Interior Ken Salazar announced that the National Park Service will waive admission fees on 17 selected dates throughout 2011 and encouraged all Americans to make a New Year's resolution to visit a national park this year. "Many people have made resolutions to spend more quality time with loved ones and to get outdoors and unplug in 2011," said Secretary Salazar. "There's no better place than a national park to help keep those resolutions. Parks offer superb recreational opportunities, making them perfect places to enjoy our beautiful land, history and culture, and nurture a healthy lifestyle."
The following are Fee Free Days for Entrance Fees. Fees for camping, canyoneering and tunnel escort fees still apply.
Martin Luther King Weekend - January 15-17
National Park Week - April 16-24
Summer Solstice - June 21
National Public Lands Day - September 24
Veteran's Day Weekend - November 11-13
Click here for more information on Fee Free Days

Zion National Park is now on Twitter. Sign up and get short timely messages about the latest news, weather, trail and road conditions. View Zion's Twitter Page

Zion National Park is now on Flickr. Check out our Zion National Park photgraphs at https://www.flickr.com/photos/zionnps

Are you interested in sharing your photos of your visit to Zion National Park? Visit the ZionNPS Group on Flickr to view and share your photos of Zion National Park at
https://www.flickr.com/groups/zionnps/
Zion National Park is working with the St. George Field Office of the Bureau of Land Management (BLM) to develop a comprehensive river management plan and environmental assessment for the Virgin Wild and Scenic River. Segments of the Virgin River, La Verkin Creek, Taylor Creek, and North Creek within and adjacent to Zion National Park were designated as wild and scenic rivers in March 2009.
more...

The 2010-11 Winter Zion Map and Guide is now available. Plan your winter visit to Zion National Park by downloading the
2010-11 Winter Zion Map and Guide

Zion National Park is beautiful in the winter. Check out the Temples and Towers of the Virgin in Webcams

Nature Notes are now available on this website. Written and produced by the Education Department at Zion, its purpose is to provide information to those interested in the educational opportunities, the natural history, the scientific features or the scenic beauties of this region. Learn more in Nature Notes

New multimedia features on the Zion Website allow you to learn more about Zion National Park.
Visit Multimedia Presentations

Many pages on the Zion Website are being updated and rewritten. Please check back frequently for updated links. New and recently rewritten webpages include:
Sustainability in Zion
Sustainable Landscapes
Sustainable Architecture
Sustainability in the Community
Grasses
Civilian Conservation Corps
Fossil Collections

Backcountry webpages have been added that show pictures and descriptions of different
Zion Backcountry Trails and Campsites

New Backcountry webpages have also been added concerning
Boating
Backcountry Desk Handouts

On March 30, 2009, President Barrack Obama signed the Omnibus Public Land Management Act into law designating 124,406 acres of Zion National Park as Wilderness. Learn more about Zion Wilderness

In the depths of the Great Depression in the 1930's, The Civilian Conservation Corps (CCC) came to Zion. Much of their work is still visible today. more...

Lots of wild animals call Zion home. Learn what you should know when Encountering Wildlife

Learn how you can Support Your Park and how to Volunteer

Find out how your park works in
Park Management

As of February 22, 2010, a new federal law allows people who can legally possess firearms under applicable federal, state, and local laws, to legally possess firearms in Zion National Park. more...