Subway Regulations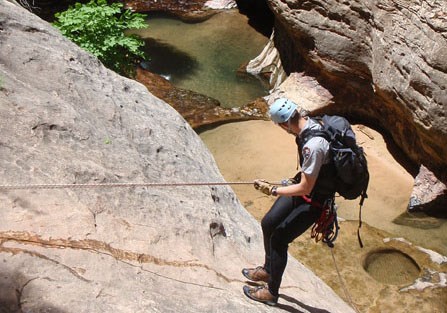 Protect The Wilderness
Wilderness is a rare wild place where one can retreat from civilization, reconnect with the earth and find healing, meaning, and significance. Knowledge, respect, and understanding for these wild and undeveloped places will ensure that they remain spectacular for years to come. To learn more visit www.wilderness.net.

Watch a video about wilderness.

Watch a Leave No Trace video.

You can help preserve and protect the Zion Wilderness for future generations by following these regulations.

Permits
Permits are required for The Subway regardless of the direction of travel. It is a day-use area only.
Group Size Limit
Large groups produce increased impacts on the wilderness. The group size limit for The Subway is 12 people sharing the same affiliation (e.g., school, club, scout troop, family, and friends) in the same on the same day. Group size limits are strictly enforced. Permits will be denied and violators will be cited if limits are exceeded.


Prevent Bottlenecks
If a faster group catches up to you, allow them to pass.


Avoid Bolting
Bolts should only be placed as a last result. Only use a bolt if there are no other safe options for creating an anchor. If bolts are used, they should be placed so that they will last for many years and will avoid scarring on the rock caused by rope pulls.


Guiding
Commercial guiding is not permitted in The Subway or on other wilderness trails.

Leave No Trace
While traveling through the wilderness, please show respect for your national park and your fellow visitors.
Stay on the Trail
If you must leave the trail, avoid stepping on biological soil crusts. It can take decades to regrow and can be destroyed by a single step. Travel on slickrock and canyon bottoms whenever possible.
Pack It In, Pack It Out
Carry all of your trash out of the wilderness, including toilet paper. Don't bury it, burn it, or leave it. Use a human waste disposal bag to transport your solid waste. If you do not have a disposal bag, waste can be buried in a small hole 4 to 8 inches deep and at least 200 feet from water and campsites.
Rock Cairns
Do not place rock cairns. If placed incorrectly they can mislead visitors causing unnecessary damage to the resource and could lead to injury. Also, do not build structures including benches, tables and shelters. Leave the area in a natural state for others to enjoy.
Take Only Pictures
It is illegal to remove anything from the park. Leave the flowers, rocks, and everything else for others to enjoy.
Do Not Feed Wildlife
Feeding wildlife human food is illegal and unhealthy. Animals can become aggressive when fed.
Preserve the Soundscape
Allow others to enjoy the peace and solitude of the park. Keep your group quiet and limit the size of your group.
Fires
Campfires are not allowed in the wilderness.
ATVs and OHVs
Off road vehicles are not permitted in the park.


Bicycles
Bicycles are not permitted in the wilderness.
Pets
Pets are not allowed in the wilderness. Even well-behaved pets may disrupt wildlife and other visitors. Do not leave pets in vehicles. Boarding kennels are available in Rockville, Kanab, Hurricane, St. George, and Cedar City.


Firearms
Firearms are permitted in Zion National Park. As of February 22, 2010, a new federal law allows people who can legally possess firearms under federal, Utah, and local laws, to possess firearms in the park. It is the visitor's responsibility to understand and comply with all applicable Utah, local, and federal firearms laws. The discharge offirearms and hunting within the park are prohibited.
Last updated: October 15, 2012