Subway Permits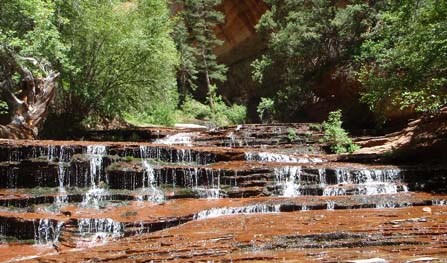 Due to the popularity of the Subway and Mystery Canyon, the park created an online lottery for reservations. The Advance Lottery does not run from November through March due to a low demand for permits. If you are applying for a reservation from November through March, please use the Calendar Reservation system.
The Advance Lottery: 2 months prior
Advance Lottery applications are completed online. Entries must be submitted two months prior to your planned trip. Entries are limited to one request per individual per month. Entrants can request three prioritized dates. The non-refundable lottery application is $5.00.

Applicants will be sent a notification email on the fifth day of the following month with information about the status of their request. If a reservation is awarded, the permit must be obtained before the trip at a park visitor center. The cost of the permit will be based on your group size.

Apply for the Advance Lottery
Calendar Reservations: up to 2 months in advance
Occasionally, a few spaces remain after the Advance Lottery has been held. These spaces can be reserved through the Canyoneering Reservation System.

Apply for Reservations After the Lottery has Run
Reservation Dates
| For a trip in: | Advance Lottery applications received in: | Calendar Reservations become available: |
| --- | --- | --- |
| April | February | March 5 |
| May | March | April 5 |
| June | April | May 5 |
| July | May | June 5 |
| August | June | July 5 |
| September | July | August 5 |
| October | August | September 5 |
| November | September | October 5 |
| December | | November 5 |
| January | | December 5 |
| February | | January 5 |
| March | | February 5 |
The Last Minute Drawing: 7-2 days in advance
If no more Calendar Reservations are available, the Last Minute Drawing will become an option 7-2 days before your trip date. In the unlikely event that spaces remain after the Last Minute Drawing, walk-in permits become available the day before your trip date.

Apply for the Last Minute Drawing
Picking up your Permit
After you obtain a reservation, you must pick up your permit in person at a park Visitor Center as early as one day before your trip begins. Check our Hours of Operation to plan when to arrive.
Permit Cost:
$15.00 - 1-2 people
$20.00 - 3-7 people
$25.00 - 8-12 people
Zion Express Membership
Zion Express Membership allows visitors who regularly visit the park, and are familiar with the park resources to obtain a login account to create online reservations and convert them into Wilderness Permits from home.

To become a member, applicants must watch three orientation films at the Zion Canyon Visitor Center Wilderness Desk. (Membership cannot be obtained in the Kolob Canyons.)

After watching the films, applicants will sign a Zion Express Program Agreement form and obtain a username and password for their member account.

Before creating a reservation, members must login to their Zion Express account. Online reservations that are created before obtaining a Zion Express Membership, or without first logging in, CANNOT be converted into a Wilderness Permit from home.

There is no cost for enrollment. Membership is valid for the remainder of the current year and for the next two calendar years.

Memberships may be cancelled if any regulations are violated.
Last updated: March 1, 2021