Limited Resumption of Operations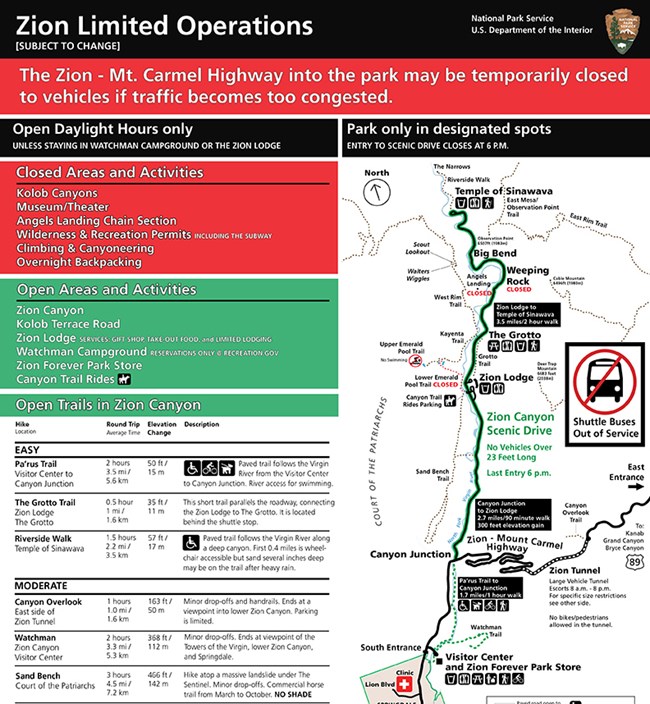 Zion National Park
Limited Operations Available
(This could change at any time, please check this webpage and our social media for updates.)
On May 13, 2020, Zion National Park began providing Day Use recreational access to select areas within the park. This action supported the White House guidelines for Opening Up America Again, and our continued coordination with the State of Utah, southwest Utah elected leaders, park partners, and local businesses. As we move forward, the health and safety of our visitors, employees, volunteers, and partners will guide our operational approach to examine each facility function and service and ensure those operations comply with current public health guidance. Visitor access will be limited to available parking in some areas.

Download the current information sheet to your device or pick up a paper copy at the visitor center.
Shuttles are Out of Service
Zion's shuttle operation is temporarily suspended. Visitors may drive themselves. Parking is limited in Zion Canyon - visitors should expect intermittent closures of the Zion Canyon Scenic Drive when capacity is reached. Zion is currently open for day use only. The Zion Canyon Scenic Drive is a 6-mile road with roughly 400 parking spots, some of which are reserved for guests at the Zion Lodge.

If visiting, please park legally and responsibly. An alternative to the Zion Scenic Canyon Drive is the Zion-Mount Carmel Highway (SR-9 through the park), which is also very scenic. Additionally, more parking is available at the Visitor Center, which is a starting point for The Pa'rus and Watchman Trails. It will help to have a backup plan for when the Scenic Drive is closed.

When parking is full on the Scenic Drive, walking and biking the road is currently allowed. Please use caution. Daytime temperatures can often be over 100 degrees Fahrenheit (37 Celsius). The road is long and many sections have little shade. Generally, it would be 6 to 16 miles round trip to get to your destination from legal and responsible parking. Bike rentals are available in Springdale.

Follow us on Twitter for updates on closures.

If you are attempting to visit the Zion Canyon Scenic Drive, please read more about how COVID-19 will affect your visit.
What is Open?
Zion National Park will continue be open for day use, during daylight hours only. Our park information sheet also describes what is open. Download it to your device and bring it with you. Please remember that all printed material is subject to change at any time.
Open Park Roads:
The collection of entrance fees has been temporarily suspended at Zion National Park. This is being done to help limit the exposure of park staff and visitors to COVID-19.

Zion Canyon Scenic Drive is open to private vehicles until parking is full. After parking is full, the road will be open only if there is available space. No vehicles over 23 feet long. Last entry to the Scenic Drive is 6pm.

The Zion-Mount Carmel Highway (State Route 9) is open. It may be temporarily closed to vehicles in the event of severe traffic congestion.

Mount Carmel Tunnel – One-way traffic control for

large vehicles

from 8:00 am to 8:00 pm.

The status of other park roads can be found on our

Current Conditions

page.
Open Trails:
Pa'rus Trail - A great hike from the Zion Canyon Visitor Center where there is usually plenty of parking.
Archeology Trail - Hike from the Zion Canyon Visitor Center.
Grotto Trail - A great way to hike from the parking at the Zion Lodge to the Grotto Trailhead.
Riverside Walk - The closest thing to the Narrows without getting wet.
Watchman Trail - A great hike from the Zion Canyon Visitor Center where there is usually plenty of parking.
Sand Bench Trail - a longer moderate hike that can be started from the Court of the Patriarchs.
Upper Emerald Pools and the Kayenta Trail - the only access to Upper Emerald Pools is from the Grotto Trailhead and the Kayenta Trail. Lower Emerald Pools remains closed.
The West Rim Trail to Scout Lookout - The Angels Landing Chains Section remains closed.
The Narrows - it is unlikely that you will be able to find parking at the trailhead for the Narrows. Please arrive with a backup plan.
Operations Open:
Rangers are patrolling park land and roads.
Zion Forever bookstore is open 8am - 6:30pm.
Outdoor visitor orientation and information services will be in designated areas near the Zion Canyon Visitor Center from 8am - 5pm.
The Watchman Campground is open by reservations only.
Zion Lodge is open with limited services.
Canyon Trail Rides is open.
Hiking During Limited Operations
In and out day hiking from all trailheads only.
Hikers must remain on established trails.
No cross-country travel or off-trail travel.
Hop Valley trail can not be used to access Kolob Canyons area.
What Remains Closed?
Closed Areas and Activities:
Kolob Canyons
South Campground and Lava Point Campground
Museum and Theater
Angels Landing Chains Section
Wilderness and Recreation Permits (this includes the Subway and top-down Narrows)
Climbing and Canyoneering
Overnight Backpacking or any through hiking
Lower Emerald Pools Trail (due to trail construction)
Weeping Rock area, including Observation Point (via East Rim Trail from Weeping Rock), Hidden Canyon, and Weeping Rock Trails (due to rockfall)
COVID-19 Health Guidance:
Maintain six-foot social distancing.
Do not exceed group size limits.
Wear a face mask when social distancing is difficult to maintain.
Wash hands with soap for 20 seconds.
Cover your mouth when coughing or sneezing.
Zion is Busy!
As services are limited, the National Park Service urges visitors to:
Pack out everything you bring into the park

Plan a visit at times other than busiest of the day

Maintain 6 ft (2 m) social distance from other visitors

Park only in designated areas

Practice Leave No Trace principles
We are closely monitoring COVID-19 with the federal, state, and local authorities. The National Park Service encourages people who choose to visit open park areas during this pandemic to adhere to guidance from the CDC and state and local public health authorities to protect visitors, employees, and more vulnerable populations.
Last updated: June 29, 2020