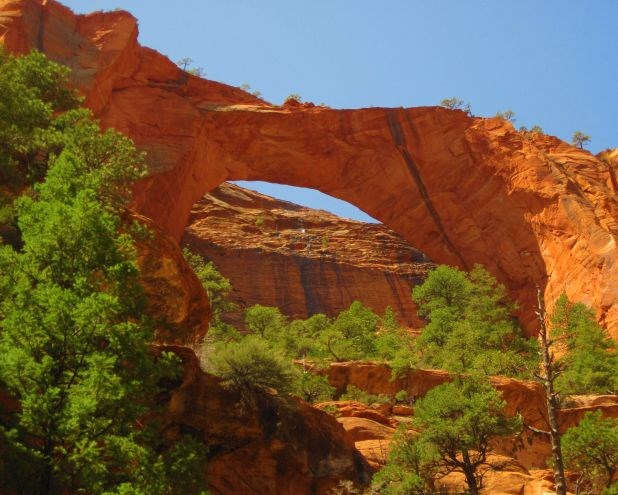 Using the following information will help to ensure a safe and pleasant trip for yourself and others.

UPDATED: Kolob Canyons road and trailhead access will be closed to all access beginning 5/1/18 until the fall of 2018. Access will be limited to hiker drop off and pick up only for the Lee Pass trailhead from 4/15-4/30/18. Those planning trips involving this area will need to plan accordingly.


Pets
Pets are not permitted on any trail in the Kolob Canyons. Around the visitor center and in the parking lots, pets must be kept on a leash that is no longer than six feet. Please clean up after your pets. Service dogs are permitted on a leash throughout the park.

Fires
Campfires are not permitted in the wilderness of Zion. Please use a gas stove when necessary. When fire danger is high, smoking is not allowed on any trail in the Kolob Canyons.

Stock Use
Horses traditionally have been used to explore the Kolob Canyons. Allowed stock animals include horses, mules, and burros. Llamas, dogs, goats, camels, and other animals are not allowed.

Permits are not required for day trips. However, stock are prohibited during spring thaws, unusually wet periods, or times when their use would cause trail damage. Maximum group size is six animals. Stock animals must remain on the LaVerkin Creek and Hop Valley Trails. Free trailing or loose herding is not allowed. Maintain a slow walk when passing hikers. When standing, stock must be kept at least 100 feet from drainages. Stock animals are not permitted on the junction route to the Kolob Arch.

The overnight stock camp is located in Hop Valley Site A. Your stay is limited to one night and a permit is required. Stock must be hobbled or tethered to reduce damage to vegetation. To reduce the spread of noxious and exotic weeds, stock must be fed certified weed-free hay two days prior to the trip.