Recommended Reads for Guides and Trip Leaders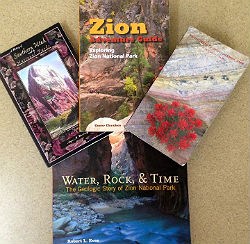 The following books are recommended reading materials for guides and trip leaders. To purchase these books online visit the Zion Natl Park Forever Project bookstore.
Zion Adventure Guide –Exploring Zion National Park by Greer Chesher
The best overall book to plan your trip and learn about Zion. Contains helpful trip planning information and trail descriptions to help you make the most of your time in the park. Also includes the basics of Zion's geology, human history, and common plants and animals found in the park.
A Zion Canyon Reader edited by Nathan N. Waite and Reid L. Neilson
A collection of the best writings about Zion, including historical and literary accounts from diverse perspectives. Early explorers and pioneers, well-known regional authors, and others with intimate knowledge of Zion share their insight and experience.
Water, Rock, &Time –The Geologic Story of Zion National Park by Robert L. Eves
This beautiful book explains how the landscape of Zion was created through the ongoing processes of geology. Learn about the main rock layers, and the role of water in carving and shaping Zion's scenery. Also includes a guide to the geology along the Zion Canyon shuttle route.
A History of Southern Utah and its National Parks by Angus M. Woodbury
Pioneer history of Zion and the surrounding area, as well as the establishment and early development of Zion as a national park. Written by the park's first Ranger Naturalist.
Wildflowers of Zion National Park by Dr. Stanley L. Welsh
A handy guide to all of the common wildflowers and trees of Zion, with good color photos. This book is not currently available online, please look for it in the physical bookstores at the park.
Geology Unfolded –An Illustrated Guide to the Geology of Utah's National Parks by Thomas H. Morris, Scott M. Ritter, and Dallin P. Laycock
A book on the geology of Utah's five national parks, also available as a laminated single-park guide for Zion. Explains the geology behind the scenery and answers some of the most common questions about Zion's geology. The book version is great if you will be visiting other parks as well: Bryce Canyon, Arches, Canyonlands, and Capitol Reef.
Last updated: July 28, 2017