Make a Backpacking Reservation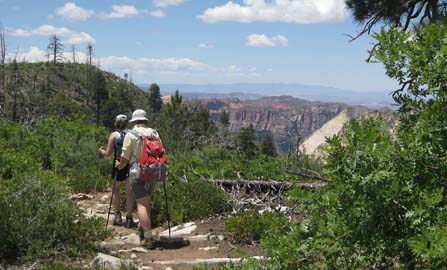 Follow These Steps for an Overnight Backpacking Permit:
(Step 1) Determine the Location and Duration of your Zion Backpacking Trip
While preparing for your trip, consider your interests, time, and the ability level of your group. There is no "one best trail." Use the new Zion Wilderness Guide, Trail and Campsite Descriptions, and topographic maps to plan your Wilderness experience. Come up with backup plans in case your first and second choices are not available.
(Step 2) Check Availability of Reservations Online
Reservations are available online during a two month time frame. On the 5th day of every month at 10:00 am mountain time, reservations for the next month become available. If sites are still available, reservations can be made until 5:00 pm mountain time, the day before your trip.
Before making a reservation, check the backpacking Online Calendar Reservations page to determine which designated campsites, at-large camp areas, and dates are available. You will need a separate reservation for each campsite or camp area, for each night of your trip.
In the drop down menu you will be able to select sites for:
East Rim Camp Area (At-Large)

Hop Valley

La Verkin Creek
Narrows

Southwest Desert

West Rim

Wildcat Canyon Camp Area (At-Large)
Available dates for the selected campsite or camp area will appear in green, and you will be able to click on the date in the top right corner. Dates that have already been reserved by another party will appear in red. The number in the bottom left corner is the group size limit for that site or area.
If you want to backpack in another area of the Zion Wilderness that is not listed above, please send a detailed email to e-mail us with your desired itinerary. We will respond with further instructions.
(Step 3) Apply for a Calendar Reservation
Make a reservation for each night of your trip by going to the Zion Wilderness Reservations Login page. Click Create Account and enter your information.
Password should be exactly eight characters and include: an upper case letter, lower case letter, number, and special symbol (i.e. & % * ! $ #)
If you have an existing Zion Wilderness Reservations account, log in.
Once you are logged in to your account you can Make a Backpacking Reservation for each night, for the duration of your trip. Carefully read through and complete your reservation application(s). You will be required to pay a non-refundable $5.00 fee for each reservation. An additional fee will be paid when you obtain your Wilderness Permit.
(Step 4) Obtain your Wilderness Backpacking Permit
If you have a backpacking reservation for the Narrows:
All Wilderness Permits for trips through the Narrows must be picked up in-person at the Zion Canyon Visitor Center, Wilderness Desk guest window. This should be done the day before your trip, but may be accomplished the morning of the start of your trip during our Hours of Operation. ⚠️ Wilderness Permits cannot be obtained at the Kolob Canyons Visitor Center.
If you have a backpacking reservation for: La Verkin Creek, Hop Valley, Wildcat Canyon, West Rim, East Rim, or Southwest Desert:
The MORNING BEFORE your trip, convert your online reservation(s) into a Wilderness Permit online by contacting: e-mail us with the following information:
Please use "Wilderness Permit - (last name and start date of trip)" in the subject line of the email to ensure a quick response from our team.
Your reservation ID number(s)
Permit Holder: Full name & phone number
Emergency Contact: Full name & phone number (of an individual not participating in the trip)
All associated vehicles: make, color, and license plate number (include state)
Where these vehicles will be parked
Group size:
Starting trailhead:
Campsite(s) name/number and date(s)
Ending trailhead:
Example Email: Wilderness Permit – Anderson 3/16/2021
Reservation ID number(s): 269038, 269039, 269042
Permit Holder: Cynthia Anderson 801-123-1234
Emergency Contact: Allison James 435-234-2345
Vehicles: Pontiac G6, Silver, CA 8HBT234
Vehicle will be parked at the Zion Canyon Visitor Center
Group size: 4
Starting trailhead: Lee Pass
La Verkin Creek Site 9 on 3/17
Wildcat Canyon Camp Area on 3/18
West Rim Site 5 on 3/19
Ending trailhead: The Grotto
Please do not e-mail us beforehand, unless you are checking on current conditions, as we are unable to issue your Wilderness Permit any earlier.
A member of the Zion Wilderness staff will send you a detailed reply email with further information on how to pay for your Wilderness Permit, and how print your permit at home or save it to your phone.
Wilderness Permit Fee:
$15.00 for 1 to 2 people

$20.00 for 3 to 7 people

$25.00 for 8 to 12 people
(Step 5) Before Your Trip
Make sure you have a copy of your Wilderness Permit with you for the duration of your trip.

Share your trip itinerary with your emergency contact.

Write your Wilderness Permit number on a piece of paper and leave it on the dashboard of your vehilce(s).

As a group, review all of the information provided by the Zion Wilderness staff.
Traveling to and From the Trailheads
There are many trailheads in the park and some groups may elect to hike from one trailhead to another. The Wilderness Transportation page will help alleviate any logistical transportation questions you may have.
Last updated: March 16, 2021