Zion National Park - A Call For Artist Entries
Date:
July 14, 2007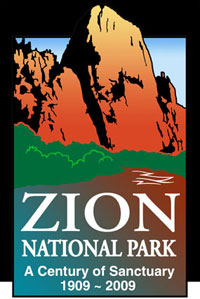 July 14, 2007
For Immediate Release
Leslie Courtright 435 772-0166
Deborah Reeder 435 627-4525 ext. 117
Zion Natural History Association, in partnership with Zion National Park, the St. George Art Museum, and the St. George Area Convention and Visitors Bureau, announces the call for entries for the art competition and traveling exhibit, "Zion National Park: A Century of Sanctuary." The competition was developed as a tribute for the park's 100th anniversary in 2009. Submissions of the best art being produced today representing both the intimacies and the grandeur of Zion National Park will be accepted through January 31, 2008.
Peter Hassrick, distinguished American art scholar and founding Director Emeritus of the Charles M. Russell Center for the Study of Art of the American West at the University of Oklahoma, will select the exhibit. Awards include a $10,000 City of St. George Art Museum Grand Prize Purchase Award; a $5,000 Zion Natural History Association Purchase Award; a Utah Governor's Recognition Award; a Zion National Park Superintendent Recognition Award; as well as many other cash prizes, recognition, merit, and purchase awards. Full contest details and entry forms are available at www.sgartmuseum.org/zion.
Established in honor of the National Park Service's commitment to preservation and protection of natural and cultural resources and providing visitor enjoyment in Zion National Park over the past 100 years; the juried exhibit will premiere at the St. George Art Museum alongside an exhibit of historic photographs and paintings covering the early years. Juried works will be featured in a traveling exhibition showcasing the inspiring landscape, flora, and fauna of Zion National Park. Artists gain the potential for sales of their work, national recognition, and national exposure. Proceeds will benefit Zion National Park and the St. George Art Museum. Museums and galleries interested in participating in the exhibit, "Zion National Park: A Century of Sanctuary" should contact the St. George Art Museum at http://www.sgcity.org/artmuseum/zion.php
Last updated: February 24, 2015