Canyon Overlook Parking Lot to Temporarily Close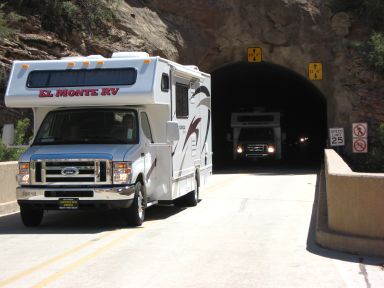 News Release Date:
July 24, 2009
Contact: Ron Terry, 435-772-0160
Superintendent Jock Whitworth has announced that the Canyon Overlook parking lot will be temporarily closed for four weeks starting Monday, August 3, 2009. Visitors wishing to hike on the Canyon Overlook Trail will need to park in the paved lot 100 yards east of the Canyon Overlook trailhead and use the sidewalk to access the trail. The restroom in the parking lot will remain open.
The Canyon Overlook parking lot was designed and built in the 1930's when the annual visitation to the park was 15,000 visitors a year and the average size of a vehicle was much smaller. As the number and size of vehicles have increased over the years, there have been numerous motor vehicle accidents in the parking lot. In addition, with the high volume of vehicle traffic and the tunnel escort operation all being confined to that area, there are serious safety concerns for pedestrians and rangers working the tunnel escort operation.
Due to many safety issues in the area and a recommendation from a Regional National Park Service safety team, the Canyon Overlook parking lot will be temporarily closed for four weeks to study the effects on visitor safety and the tunnel escort operation. If the closure improves visitor and employee safety, the park will consider implementing a permanent closure. If a permanent closure occurs, backcountry use limits for Pine Creek and Spry Canyon may need to be reduced due to the limited available parking.
Due to the popularity of the Canyon Overlook Trail, it is recommended that visitors arrive early in the morning or late in the afternoon to find parking spaces. For safety reasons, parking on the road shoulder will not be allowed. Canyoneers wishing to access Spry or Pine Creek Canyons are encouraged to carpool or use one of several private shuttle services available in the town of Springdale.
Last updated: February 24, 2015