Shrubs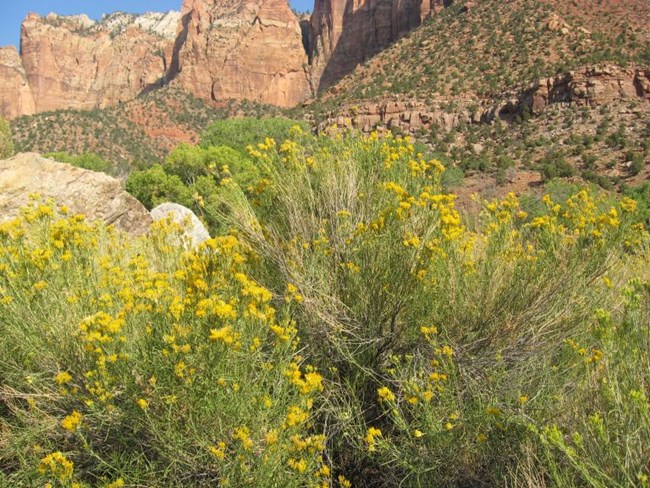 Rabbitbrush (Ericameria nauseosus)
This shrub begins to bloom in late summer; its masses of tiny, golden, tubular flowers add their bright color to Zion's landscape into the fall. It is a source of nectar and pollen for many bees, wasps, and butterflies, at a time when such food is otherwise scarce. Visitors to Zion Canyon can find the plant growing densely along the Pa'Rus Trail in some places, offering shade and food for many kinds of mammals and birds. It produces a latex, which can be used to make rubber. In recent decades, researchers have explored its potential for this use and for other important applications, including medicine and as an energy source.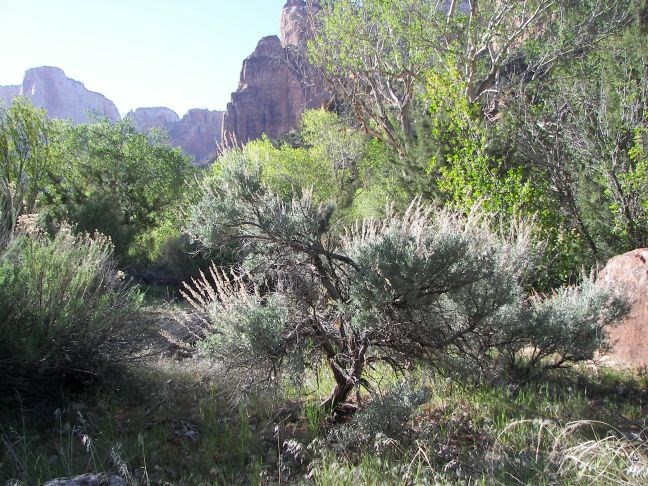 Big sagebrush (Artemesia tridentata)
This shrub covers thousands of square miles in the high deserts of the West and grows in Zion in dense patches along many trails, including the Watchman, the Sandbench, and Coalpits Wash. Lit by the afternoon sun, its leaves glow a silvery blue-green, in pleasing contrast to the copper of Kayenta and Navajo Sandstone cliffs; its leaves also exude a pleasing fragrance when they are rubbed. The plant has a long history of usage by Native Americans—from the Ancient Puebloans (formerly known as the Anasazi) to the present-day Paiutes. Native Americans use the smoke or steam rising from its burning, dried or moistened leaves as a ritual and literal purification.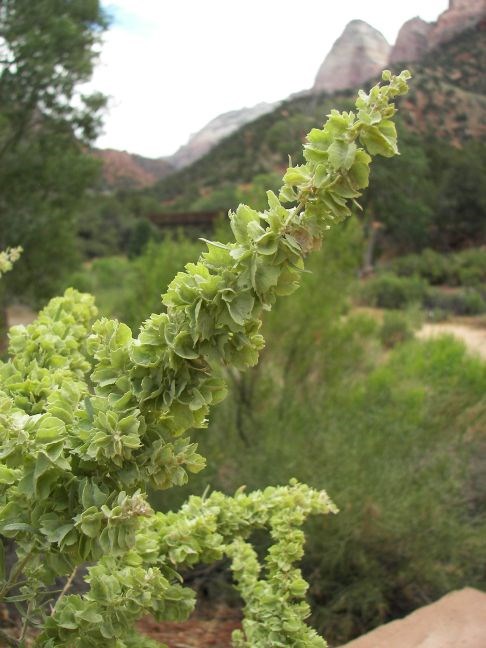 Fourwing saltbush (Atriplex canescens)
This shrub gets its name, in part, from the four winged fruits the female plants produce. The rest of the name refers to the way it copes with the salty soils of the desert. It is able to excrete excess salt into tiny hairs on the leaf surfaces. The hairs die from the high salt concentration, leaving behind a grayish deposit of salt crystals that reflect some of the intense desert sunlight. Saltbush has another remarkable ability. The female bushes can convert to males to conserve the energy they would have needed to reproduce. Deer and rabbits browse on saltbush leaves. Birds and other small animals eat its seeds. It provides natural shade and shelter in open areas for gophers, mice, and kangaroo rats.
Last updated: July 9, 2017