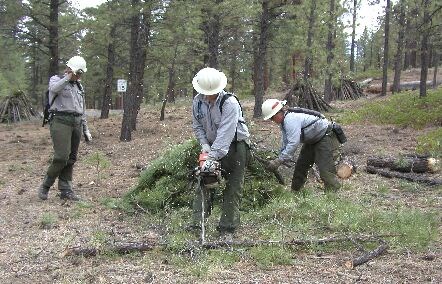 Zion 's Fuels Management Program addresses the overly dense vegetation that is the result of decades of fire exclusion from public lands. The reduction of hazardous fuels accumulation is one of the key elements of the 2000 National Fire Plan. It is the understanding that reversing the effects of a century of aggressive fire suppression will be an evolutionary process, not one that can be completed in a few short years.
The specific objectives of the fuels program in Zion are to reduce the total amount of fuel in an area and provide "defensible space" around homes and other structures. Fuel management activities will incorporate all types of treatments necessary to change forest conditions from higher to lower risk classes, and to maintain those areas in which a desirable condition class has been established. Activities will generally focus on wildland-urban interface areas to reduce risk to people and property.
The Fuels Program is coordinated by a Fuels Management Specialist who supervises a field crew of 5-6 firefighters. The crew's main duties are to reduce the impacts of unwanted wildland fires on communities (both in and surrounding the park), natural resources, and cultural resources. This is accomplished by reducing the amount of fuels in a given area by a variety of methods including prescribed fire and mechanical and chemical methods. The crew also assists with other aspects of the fire management program in the park such as preparing, igniting and holding prescribed fire units and initial attack on wildfires. These activities are carried out both in the park and the surrounding area. The crew may also be sent to assist in fire operations throughout the country when needed.
See Fire Management Projects page for ongoing and completed fuels management projects.