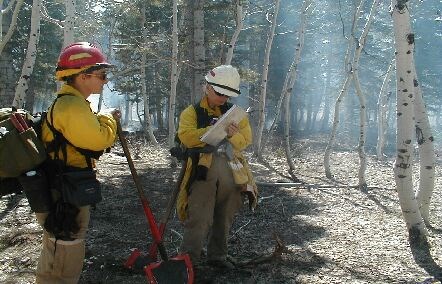 Fire Monitors
After a park receives report of a fire, fire monitors are sent to investigate. First, monitors determine whether the cause of the fire is human-caused or natural. Fires caused by human activity are suppressed but natural fires are allowed to burn as long as they do not threaten people, property or resource values.
After determining that a fire start is natural, monitors collect information that will allow wildland fire managers to predict the fire's behavior. Monitors record the location, current weather, site vegetation , slope-aspect, fuel loading, flame length and rate of spread and take photographs. They map the perimeter of the fire and assess the fuels at the head. This information is radioed to the Wildland Fire Dispatch Office.
Monitors also collect fuel samples which may include foliage, herbaceous vegetation, forest floor litter, and dead logs in various size classes. The fuel samples are weighed, dried in an oven and re-weighed. The resulting figures indicate the amount of moisture in the fuel which allows fire managers to anticipate how intensely and quickly a fire will spread. Fire monitors may stay on a small, smoldering fire for only an hour or so every few days. They may also camp out for days or weeks on larger fires with more potential to spread, continuing to collect information on fire behavior, fuels and weather.
Fire monitors also collect daily weather information for stations around the park. Monitors measure temperature, precipitation, relative humidity, dew point, winds and fuel moisture. The information is used to assess fire danger and to predict the behavior of wildland fires.