Fire Effects Crew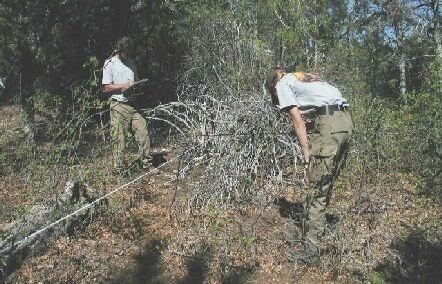 Fire Effects Monitoring

The Zion Fire Effects Monitoring program was established in 1994 to help fire and resource managers better understand the role that prescribed fire has on vegetation in the park. Information about the use and effects of prescribed fire on park resources is critical for making sound, scientifically based management decisions.
Fire and resource managers establish a prescribed fire burn unit within the park to meet resource objectives as stated in the Fire Management Plan. A four/five-person Fire Effects Crew (supervised by the park's Fire Ecologist) then establishes randomly selected monitoring plots within the planned burn unit. Within portions of each 20x50m plot, the crew evaluates and records numerous components of the vegetation such as; genus/species, total numbers, age class, size and condition. Many of the plants are mapped and the larger tree species tagged both for future re-location. The depth of the duff and litter layers on the ground are also measured and recorded. All of this information is then entered into a computer database for future comparisons.
Within 1-2 months after the prescribed fire, the crew returns to the treated plot and reevaluates many of the same components of the vegetation. Reevaluations then occur at 1, 2, 5, 10 and 20-year intervals to determine the long-term effects of the prescribed burn on the vegetation. Analysis of the fire effects monitoring data shows long-term vegetation trends and responses to prescribed fire. This data is utilized to determine whether or not a prescribed fire achieves the desired objectives and what, if any, adjustments need to be made.
Last updated: February 24, 2015