Educational Outreach Program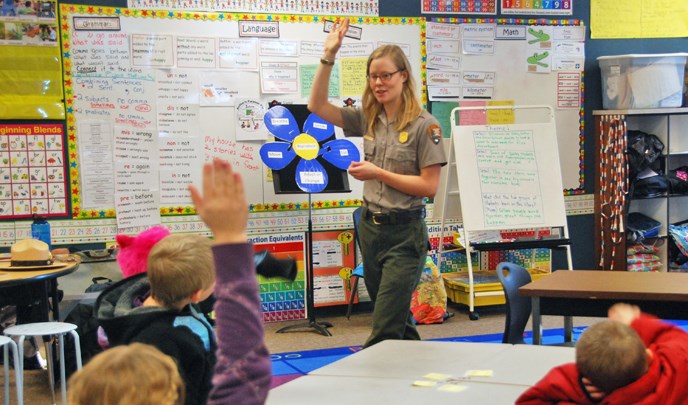 Zion Outreach
Zion Outreach is a program in which park rangers visit schools in surrounding communities and conduct curriculum-based programs for 3rd, 4th, and 5th grade students. Park staff use a variety of educational techniques and approaches to improve understanding and retention of the associated subject matter. Programs may include PowerPoint presentations, games, discussions, and/or activities. Pre-arrival packets containing pre- and post-visit activities are located on the Curriculum Materials page. All programs are between 45-60 minutes long.

Available Dates and Scheduling
Outreach programs are offered Monday through Friday during the following available dates in 2013 and 2014.
Third Grade: January 8, 2014 to February 14, 2014
Fourth Grade: February 17, 2014 to March 28, 2014
Fifth Grade: October 1, 2013 to October 25, 2013

Reservation forms must be received by email, mail, or fax by Friday, September 13, 2013. If your school has multiple classes interested in participating, please coordinate your requests and submit your reservation forms together. Space is limited.
For additional information or questions, please call the Zion Education Office at (435) 772-0165.

The following documents may be downloaded and require free Adobe Reader
Zion Outreach 2014 Program Description
Zion Outreach 2014 Program Reservation Form

The Zion Natural History Association provides additional funding for the Zion Outreach Program.
Last updated: August 3, 2015